RAC recovery 'took 21 hours to get driver home'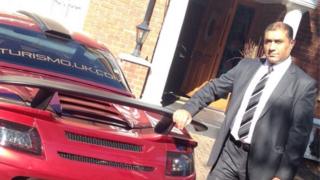 A stranded motorist's journey home took almost 24 hours due to a series of blunders by the RAC.
Mohammed Aliaus, from Nottingham, was driving his custom Porsche 986 home from Essex when it developed a tyre problem.
He said he broke down at 17:30 GMT on 13 November but did not get home until 14:30 the next day after a number of mix-ups by the vehicle recovery firm.
The RAC has apologised for the "poor way" his breakdown was managed.
'Middle of nowhere'
Mr Aliaus said he pulled into a petrol station after becoming aware of the tyre problem.
After waiting seven hours, he said the RAC sent the wrong type of truck to recover his specialist car.
An hour later, another vehicle arrived but instead of going to its intended destination, the driver had to stop in Toddington, Bedfordshire, to take their required break.
Mr Aliaus said he then waited another four hours for the next truck and eventually arrived home at 14:30 the next day.
"The annoying part was they kept promising, saying we'll be back in touch, giving me times and then changing them," he said.
"I was absolutely shattered. I was in the middle of nowhere at an empty petrol station with nowhere to go."
The businessman said sitting in the car for extended periods of time had aggravated a back problem.
Mr Aliaus said he has full RAC membership which includes hotel accommodation, if needed, and vehicle hire.
However, he said he was never offered these options.
The RAC said in a statement: "We would like to apologise to Mr Aliaus for the poor way his breakdown was handled.
"To apologise for this, we are making arrangements for a gesture of goodwill payment of £100."
You may also be interested in:
Follow BBC East Midlands on Facebook, on Twitter, or on Instagram. Send your story ideas to eastmidsnews@bbc.co.uk.