Specialist high chair gives starving labrador hope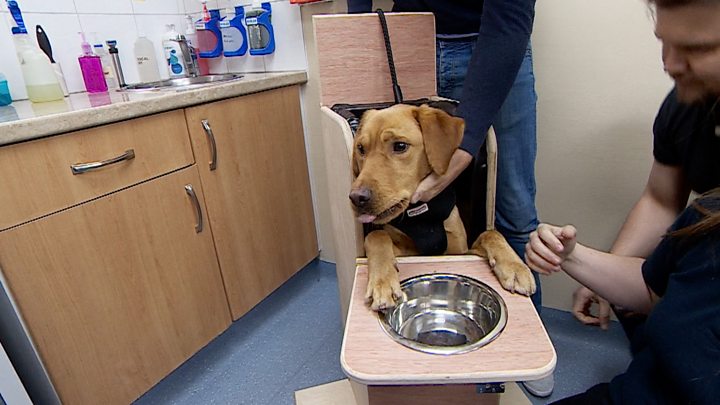 A dog who cannot eat due to a rare disorder has been given hope by a specialist chair built by volunteers.
Buck, a 17-month-old labrador, is half the average size and weight for his age due to megaoesophagus, which means he struggles to swallow food.
A specialist support, known as a Bailey chair, was not available until next year - too late for poor Buck.
But after a Nottinghamshire charity appealed for help, a vet and a designer built a bespoke chair within days.
Buck weighed only 17kg (37.4lbs) when he was taken in by Mansfield-based charity, Team Edward - Labrador Rescue.
Founder Wendy Hopewell said: "We were really shocked. The previous owner said they were really struggling to feed him but when I saw him I thought 'wow, I've never seen a labrador that thin before'.
"We often get them overweight but I found his condition really heart-breaking."
Bailey chairs work by holding a dog upright, allowing gravity to help food move into the stomach.
When Ms Hopewell discovered none were available for more than a month, she took to social media for help.
Emma Drinkall, from Nottingham's Vet School, and partner Nick Rowan, a senior lecturer at De Montfort University in product design and engineering, stepped forward.
Mr Rowan said: "I've experience in disability design but have never worked with animals.
"When we were cutting the wood I had to double check the measurements we were given because I couldn't believe he could be that thin.
"I'm thrilled we could help and thrilled it fits so well and he seems so chilled in it."
Follow BBC East Midlands on Facebook, on Twitter, or on Instagram. Send your story ideas to eastmidsnews@bbc.co.uk.