Nottingham man finds 'worms' in his tap water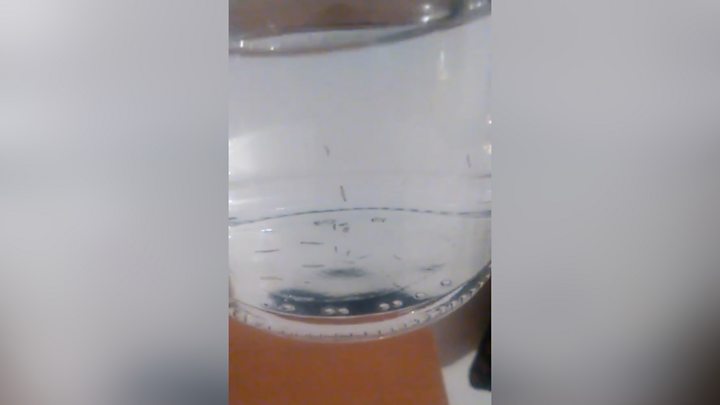 A man has been promised a new water tank after complaining of "worm-like creatures" coming out of his taps.
Matthew Rhone, a Nottingham City Homes tenant, said he first noticed something floating in his water in June.
He said the landlord only acted when Severn Trent Water confirmed the presence of drain fly larvae in the tank.
Nottingham City Homes said it hoped a new tank would "sort this unfortunate situation".
Mr Rhone has blamed skin and stomach problems on the larvae infestation.
"I have never seen anything like it in my life," he said.
"I have been in some horrible places but I have never seen worms coming out of the taps."
Mr Rhone, 27, collected a jar of water from his sink and bath taps and described the contents as "shredded skin of worms, baby worms and big worms".
Dr Chris Terrell-Nield, head of ecology and environment at Nottingham Trent University, said the creatures were not dangerous - but could be the symptom of a different problem.
"The animals breed in still water and that means there must be a pool somewhere in the system for them to breed," he said.
Severn Trent Water said it had investigated and found no problem with the quality of the water supply.
It said it had been working with Nottingham City Homes to resolve the problem.
A spokeswoman for the landlord said: "This is an unusual situation.
"As such, we have taken the decision to install a new water tank and then the whole system will be cleaned and flushed again - which we are technically certain should sort this unfortunate situation."
Follow BBC East Midlands on Facebook, Twitter, or Instagram. Send your story ideas to eastmidsnews@bbc.co.uk.