Rapist jailed after recreation of 1980s DNA lab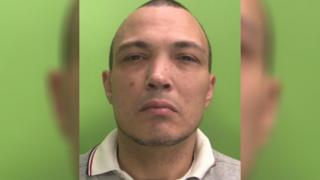 A man who raped a woman at knifepoint 30 years ago was caught with the help of a reconstructed 1980s DNA laboratory.
Benjamin Whitehead, from Nottingham, assaulted his victim during a burglary in September 1988.
Advances in DNA science and a national database meant police could link Whitehead to the crime he committed when he was 16.
The 46-year-old was jailed for nine years and 10 months on Tuesday.
Nottingham Crown Court heard the victim woke up to find Whitehead standing over her bed wearing a mask.
While raping her, he threatened to cut her throat with a seven-inch knife.
The court heard although Whitehead's victim went to the police and DNA evidence was taken, they were unable to find the suspect.
But in 2013 Nottinghamshire Police carried out a cold case review and re-examined the DNA samples with modern techniques.
Whitehead was found as a match on the DNA database and other details, such as his Nottingham accent and convictions, further pointed to his guilt.
Police flew to his victim, who had moved abroad, to gather fresh DNA and, with the help of the University of Leicester, recreated a laboratory from the 1980s to prove the DNA would have matched then as well.
Whitehead was arrested in 2017 and re-arrested earlier this year. He initially denied the charges of aggravated burglary and rape but pleaded guilty on what would have been the first day of his trial.
In a statement read out by the judge, Whitehead's victim said the ordeal was "disgusting".
It added: "You spend your life looking over your shoulder just in case - no-one should have to live like that."
Whitehead's defence lawyer Nicola Merrick said the crime had "tormented" him ever since and he acknowledged the hurt he had caused his victim.
Sentencing Whitehead, the judge said the offence "destroyed a life within minutes".