Wilford Hill Cemetery: Son's grave decorations 'dumped' in bags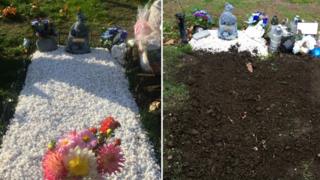 A mother said she "broke down" after finding items from her son's grave had been bagged up and "dumped" nearby.
Emma Nelson, 30, from Nottingham, lost her son Reggie during pregnancy after she was diagnosed with parvovirus, also known as slapped cheek syndrome.
Ms Nelson said she was told by a member of staff at Wilford Hill Cemetery she could decorate the plot.
The city council apologised for the distress caused but said what was installed was "unauthorised".
The mother-of-three visited the grave with her five-year-old daughter on the date Reggie, who died at 16 weeks, in July, was due to be born.
She said decorations, including white stones and a small metal fence, had been cleared and put into black bags and "dumped on the pathway" nearby.
"I was mortified and I broke down to my knees," she said.
"You wouldn't wish it on your worst enemy.
"When I took the grave on they never said it was a lawned area... I was told by someone at the site office that it would be OK [to add the items]."
Ms Nelson added she did not see any signs saying she could not decorate the grave in the way she did.
The city council apologised for "any distress caused by the removal of the metal surround on her baby's grave".
But it said the structure was "unauthorised and was causing an obstruction" for ground staff.
The authority also said it would prefer to tell people about the "removal of memorabilia" but items were moved "swiftly" to prevent others from doing the same.
This, a spokesman said, was made "clear" on signs around the cemetery.
Information is also given to to people with grave plots as to what is allowed and not allowed, he added.
Follow BBC East Midlands on Facebook, on Twitter, or on Instagram. Send your story ideas to eastmidsnews@bbc.co.uk.