Family cancel Tui holiday over wheelchair-friendly room delay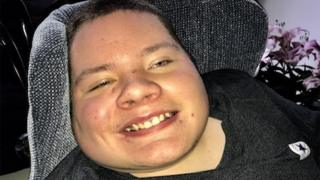 A couple said they had to cancel a holiday with their disabled son because a travel company could not tell them if they had a wheelchair-friendly room.
Christine and David Sketchley were due to fly to Gran Canaria on Monday with Myles, 19, who has cerebral palsy and scoliosis and relies on a wheelchair.
They said Tui told them it could take up to 30 days to check if a hotel had an available accessible room.
The travel firm said it was "keen to resolve the matter".
Mrs Sketchley, from Hucknall in Nottinghamshire, said a Tui staff member provisionally booked the holiday in October and said they would confirm when the room became available.
But she said she was forced to cancel the holiday on Friday after she called back and staff told her they could not access her booking due to the employee not being at work.
Mrs Sketchley, 55, said she "couldn't believe" Tui could not tell her straight away if they had an accessible room.
She said she also had problems trying to book specialist transport to and from East Midlands Airport and Gran Canaria, and was told by a Tui staff member "to turn up at the airport and hope for the best".
"I said I have never heard anything more ridiculous in my life," she added.
"Their customer service is abominable. I feel so let down."
Paralympic champion Baroness Tanni Grey-Thompson is among several people who have supported the Sketchleys on social media.
Responding to Mrs Sketchley's claims, Tui said: "We are sorry to hear about Mrs Sketchley's issues when booking her holiday.
"We have been trying to contact Mrs Sketchley directly to discuss the matter further but haven't been able to reach her yet."
Follow BBC East Midlands on Facebook, Twitter, or Instagram. Send your story ideas to eastmidsnews@bbc.co.uk.