Amber Peat inquest: Mother gave 'little consideration' for welfare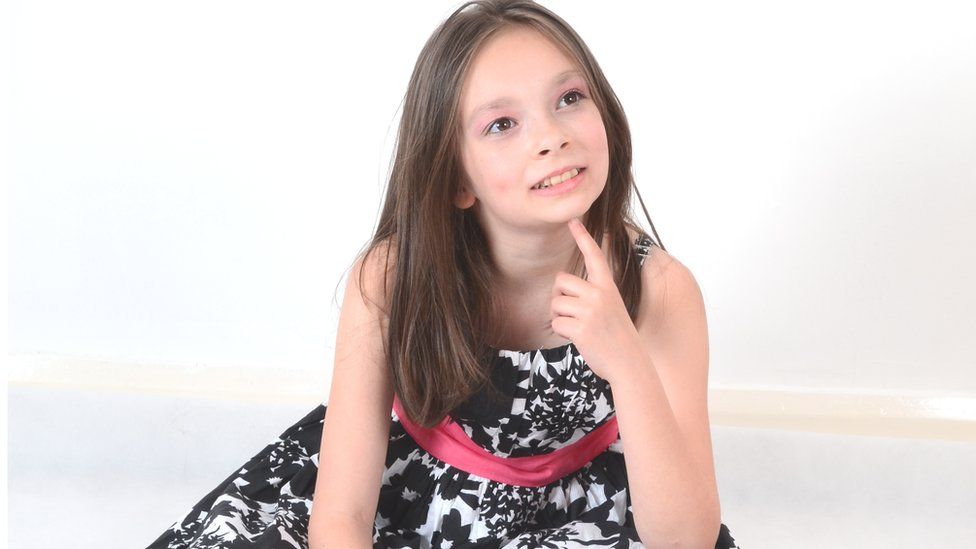 The mother and stepfather of a 13-year-old girl who hanged herself gave "very little, if any, consideration" to her welfare, a coroner has said.
Amber Peat's mum and stepdad also demonstrated little "emotional warmth" towards her, Coroner Laurinda Bower added.
Returning a narrative conclusion, she said agencies missed 11 opportunities which may have prevented Amber's death.
Amber's mother, Kelly Peat, said she had been "the best parent" she could.
Ms Bower considered whether to return a conclusion of suicide but she could not be sure Amber intended to die.
"Considering Amber's age, her emotional immaturity and her undoubted vulnerability, and the absence of any professional ever having properly assessed Amber's risk of self-harm or suicide, I am not able to determine, on the balance of probabilities, Amber's intention at the time of her death," she said.
Amber Peat was found hanged in a hedgerow in Mansfield, Nottinghamshire, on 2 June 2015.
She had previously run away from home and also expressed a wish to die.
The inquest heard how Mrs Peat became engaged to Amber's stepfather, Daniel Peat, just 12 weeks after splitting up with Amber's biological father.
Amber also had to move house and schools during this time, which was "further complicated" by the fact Amber was due to take her SAT examinations.
"There appears to have been very little, if any, consideration of the welfare of Amber and this is a theme to which I shall return," the coroner said.
In her narrative conclusion, the coroner said education, health and social care agencies all missed opportunities to assess Amber and her family.
"Had those agencies responded to safeguarding concerns in an appropriate manner it is possible Amber would not have died when she did," the coroner said.
The inquest heard evidence from several of Amber's teachers who had concerns about her life at home.
However, the coroner found that Amber had been telling the truth.
"I find as a fact that Amber was made to wear the jogging bottoms to school and to use a carrier bag as punishment by Mr Peat in the full knowledge that she would be humiliated," the coroner said.
"This was perhaps borne out of the frustration that he was feeling towards Amber rejecting his attempts to discipline her."
The inquest heard evidence from a police officer who said Mrs Peat was "not particularly emotional, as in upset", when her daughter went missing.
The coroner also noted a lack of emotion from Mr and Mrs Peat when they gave evidence at the inquest.
"On more than one occasion, professionals told me how they had witnessed Mr and Mrs Peat demonstrate a lack of emotional warmth towards Amber at times when one would expect emotion to be present, such as Amber returning home after being missing," the coroner said.
"Indeed, when they gave evidence to this inquest there was a distinct lack of emotional warmth towards Amber, more so from Mr Peat than Mrs Peat."
A statement on behalf of Mrs Peat was read out by a lawyer following the inquest.
"Like all parents, Kelly knows she is not perfect but she has been, and continues to be, the best parent she can for her children," the statement said.
"Kelly wonders whether things could have been different had Amber and her family received more support and advice for Amber's behaviour.
"She proactively sought help on numerous occasions with Amber, and tried to work with the agencies as much as possible."
The statement said Mrs Peat had been "subjected to intense media and public scrutiny" since Amber's death.
"Some of the things that have been said have been very hurtful, not only to Kelly but her family too and they have had a huge impact on their well-being," the statement said.
The statement said Mrs Peat "will always wonder" why Amber did what she did.
"She and her family find it impossible to believe that Amber purposely set out to take her own life," the statement said.
"Kelly feels strongly that Amber would not have meant to deliberately harm herself or mean for this to happen."
Chris Few, chairman of Nottinghamshire Safeguarding Children Board, said they "owe it to Amber to learn from what happened".
"Before we publish the serious case review, it is important for all those involved to take some time to reflect on and consider the coroner's findings and to identify whether there is any further action needed," he said.
Related Internet Links
The BBC is not responsible for the content of external sites.