Coronavirus: Rolls-Royce confirms factory closure plan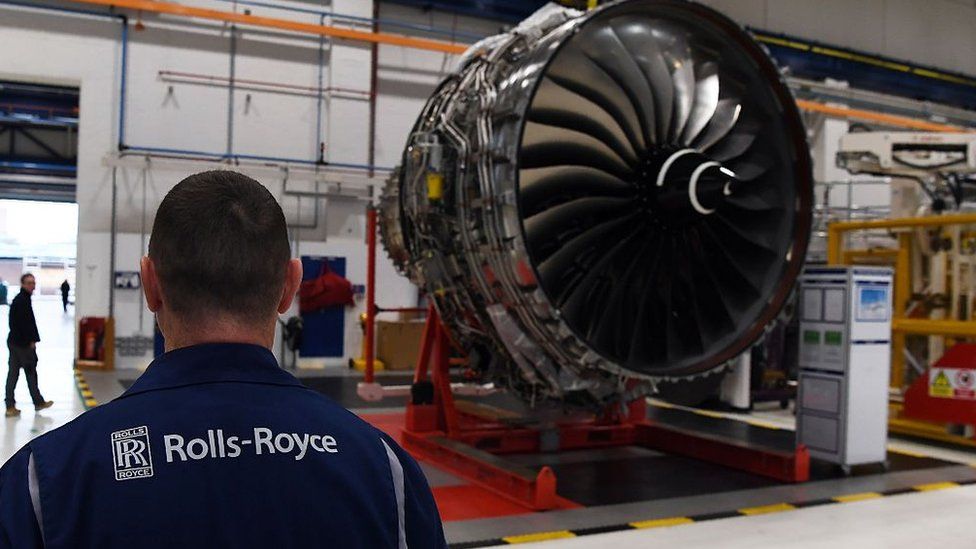 Engineering giant Rolls-Royce has confirmed plans to close factories in Nottinghamshire and Lancashire.
The company said its engine components plant in Annesley would shut because of the "significant reduction" in demand.
It also plans to merge two factories in Barnoldswick, Lancashire, and move some operations to Singapore.
About 350 jobs are at risk in Lancashire but the firm said 120 staff in Annesley would be offered transfers to the firm's headquarters in Derby.
Earlier this year, Rolls-Royce said it was looking to axe 9,000 jobs across its global workforce.
The firm confirmed it intends to stop making wide chord fan blades for new engines at its Bankfield site in Barnoldswick and move the work to Singapore by autumn 2023.
The nearby Ghyll Brow base would then be incorporated into Bankfield.
A Rolls-Royce spokesman said: "Demand for our civil aerospace products and services has fallen significantly and we've had to take difficult but necessary decisions to position ourselves for the future.
"Today we have told our employees that we are proposing to close some of our sites, and some will see significant reductions in workload."
He added Rolls-Royce was still reviewing the potential impact of coronavirus at its other Nottinghamshire site in Hucknall.
Currently, the Annesley base is used to make blisks (bladed disks), discs and drums for Trent and Pearl engines, and a transfer of activities to Derby and a plant in Germany is due to be completed by 2022.
About 52,000 people work for the engine-maker globally, and the company employs about 9,000 people at its Derby headquarters.
Related Internet Links
The BBC is not responsible for the content of external sites.