Coronavirus: Nottingham has highest Covid infection rate in UK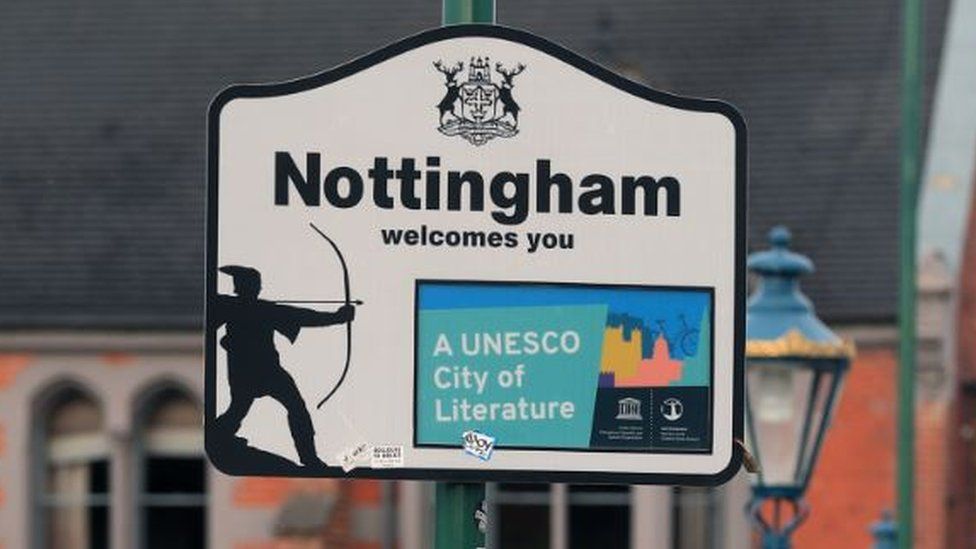 Nottingham has the highest Covid-19 infection rate in the UK, according to the latest data.
Public Health England figures show that 689.1 per 100,000 people tested positive for the virus in the city over the past week.
Documents leaked earlier today indicate that new social distancing rules for Nottinghamshire are due to be announced on Monday.
Local politicians have criticised the delay in imposing restrictions.
Nottingham City Council leader David Mellen said the government's lack of action on new measures in Nottingham "makes absolutely no sense" and that "strict interventions are needed urgently".
The Labour politician said: "The delay leaves this weekend open to potential abuse of the existing rules, which could result in yet more Covid cases in our city."
He called on the government to "act urgently and decisively or, better still, give us the powers to let us get on with taking action ourselves".
In the week up to 5 October, Nottingham recorded 2,294 cases, up from 407 the previous week.
Earlier, the county council said the rate of infection for Nottinghamshire was 106 per 100,000, much lower than the rate in Nottingham.
Nottingham's director of public health Alison Challenger said: "Everyone needs to stick rigidly to their social bubbles and not mix with other households.
"There is no need to wait for additional government restrictions."
Gedling MP Tom Randall said he would "wholly support calls" for people to follow stricter guidelines, while Nottingham South MP Lilian Greenwood has called the delay in introducing measures "reckless and indefensible".
Ms Greenwood added: "It's outrageous that [MPs] only found out about this decision from the media."
On Thursday evening, the government released a statement urging residents to follow "the advice of the local authority", as well as practising social distancing, wearing face coverings, and getting tested if they exhibited symptoms.
A spokesperson added: "The local authority has our full backing and support."
But Nottingham North MP Alex Norris, who was briefed about the government's strategy during a call with health minister Edward Argar, said he was sceptical about the government's strategy.
He said: "When pressed about Nottingham, the advice that came back was, 'We've not decided yet', which is very hard to understand.
"They won't support us because they won't bring in the restriction we're appealing for them to bring in.
"We're trying to get ahead of those restrictions by suggesting them to people ourselves, but of course we don't have the legal backing to enforce those."
Ben Bradley, MP for Mansfield - which has a lower infection rate of 62.2 - called on the government to reconsider blanket restrictions for the whole of the county.
The Conservative politician added: "It would be really frustrating to have restrictions imposed when, locally, we might not need them."
They indicate people will still be able to go on holiday outside the county, but only with people from their own household or support bubble.
Households would still be able to meet indoors if they are in a support bubble.
Jo Cox-Brown, founder of Night Time Economy, which works with businesses and local authorities to create safer nights out in English cities, said further restrictions could have a devastating effect on jobs.
"[Businesses] are terrified. The night-time economy is worth 14,000 jobs in Nottingham alone," she said.
"They were closed for three months, they have been trading for two months but at 50-75% of normal occupancy levels, so financially these venues are on their knees."
Across England, bars and restaurants could be forced to close as the government prepares to tighten restrictions for the worst-affected areas.
It follows the announcement that similar outlets across central Scotland are to be closed for 16 days.
Housing Secretary Robert Jenrick has refused to say whether pubs and restaurants in the north and in Nottingham will be forced to close.
He said: "We are currently considering what steps we should take, obviously taking the advice of our scientific and medical advisers, and a decision will be made shortly."
Asked if there will be an announcement linked to the hospitality industry, he said: "We are considering the evidence. In some parts of the country, the number of cases are rising very fast and we are taking that very seriously."
Related Internet Links
The BBC is not responsible for the content of external sites.