Huge Nottingham 'hoarder' collection 'could fetch £1m'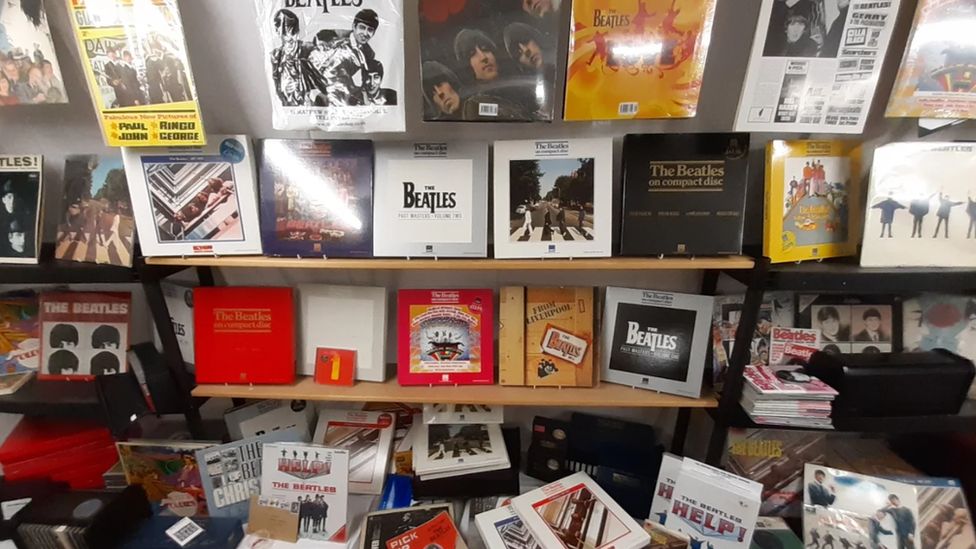 A treasure trove of rare and valuable items, including Beatles memorabilia and vintage comics, has been discovered at the home of a "hoarder" who died.
The massive collection was found by family members at the Nottingham home of the unnamed 63-year-old man following his death.
More than 60,000 rare and valuable items were found crammed into the house, a flat and two garages.
It is thought they could raise up to £1m when they are auctioned off.
Lincoln-based Unique Auctions, which is not sharing the collector's name, said the items were found by the man's brother following his death.
The valuable memorabilia was piled high, in every available space. Many items had not even been taken out of their packaging.
More rare collectables were found at a flat owned by the man and two garages he rented from the council.
They included radio equipment, microscopes, cameras, signed photographs of astronauts and newspapers covering historic world events.
Terry Woodcock, owner of Unique Auctions, said: "When we arrived we couldn't get in through the front door, so we had to go round the back.
"When we eventually got in, we were totally amazed by what had been stored there. Every room in the property was full to the ceiling.
"We took 14 trucks' [worth of items] out of the house. So far, we've spent 1,600 hours working on it.
"When you hear of hoarders you hear about the worst parts - bags of rubbish and newspapers. This guy bought only what I feel are very good, saleable items."
The four-day auction is due to get under way on 22 October.
Mr Woodcock said some who had seen the collection had estimated its worth at £4m but he expected it to raise between £500,000 and £1m.
"You can't value a lot of this stuff. It's going to make what it makes on the day," he said.
Related Internet Links
The BBC is not responsible for the content of external sites.