'Banksy' artwork appears on Nottingham wall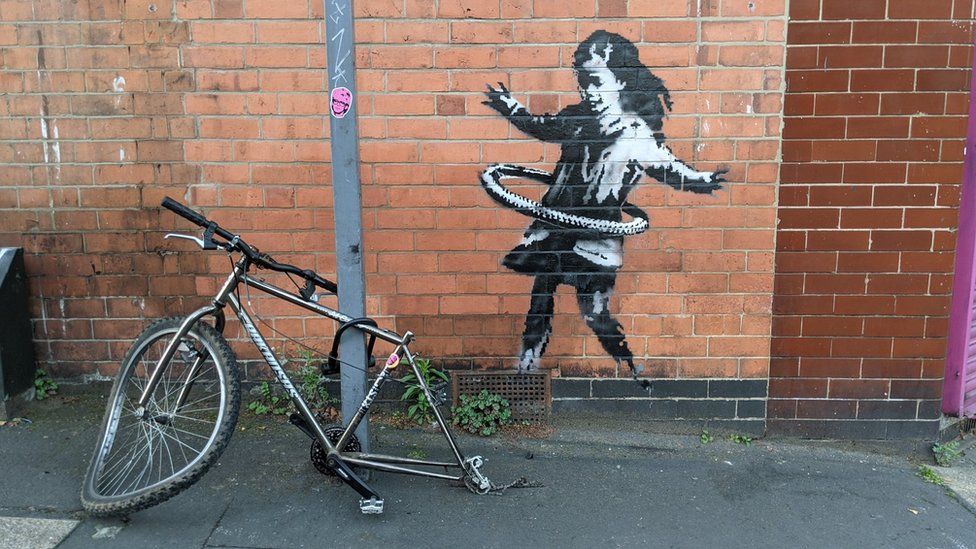 A piece of street art in the style of elusive graffiti artist Banksy has appeared on a wall in Nottingham.
The creation, outside a beauty salon in Ilkeston Road, Lenton, depicts a girl hula-hooping near a real bicycle with its back wheel missing.
The artist has not authenticated the work on his Instagram account or by any other means.
But shortly after a protective screen was put over, the artwork was vandalised.
A spokeswoman for Banksy told the BBC she did not have any information on it.
It comes as the city remains the highest in the country for coronavirus infection rates, with some speculating Banksy could have chosen Nottingham for that reason.
Others wondered whether the bike was a nod to the city's famous Raleigh factory.
A shop owner described seeing the artwork unfold when a van "with blacked out windows" pulled up at about 17:00 BST on Tuesday.
Alex Mitchell, 31, said: "I only saw the driver. I didn't know what was going on or whether I should call the police.
"He pretended like he had broken down but he was there for at least two hours."
Mr Mitchell said at one point the man came in and bought two Ribenas.
He said a piece of cardboard was left "gaffa taped to the wall" and when he returned the next day, the same person was there again.
"I asked him 'who is the artist' and he just winked at me," he said.
"I'm not going to say whether it is Banksy or not, it definitely looks like one but no-one saw who painted it.
"Maybe he was just passing through."
Surinder Kaur, who owns the salon the artwork has appeared on but does not own the building, said she had never heard of Banksy.
She said: "I just saw people taking photos of the side of the shop and thought 'what's that about?'
"I'm shocked and excited. It's such a nice painting and if it is a Banksy - wow!"
Josinya Powell, 39, said: "Nottingham needs something like this right now - something to talk about rather than coronavirus.
"If it is Banksy that'd be amazing - I'd say to him 'thanks babes'."
Amanda Forest, 49, said: "With Nottingham being in the headlines because of Covid it's something to put a smile on your face.
"Even if you're not interested in art, everyone knows Banksy."
Banksy expert Prof Paul Gough, from Arts University Bournemouth, said he had his doubts as to whether this was the real deal.
"The quality of the drawing in the hands and the feet isn't as accomplished as I've seen in other works," he said.
"And it's not as topical. The last four or five pieces Banksy's done have been really addressing the crisis we're in at the moment with wit and humour."
Nottingham City Council said the artwork has "attracted interest and excitement", "Banksy or not".
It put a temporary plastic covering over the work to protect it, but urged people not to congregate around the piece due to coronavirus restrictions.
Shortly after the transparent film had been placed over the artwork, it was vandalised.