Banksy claims Nottingham hula-hooping girl artwork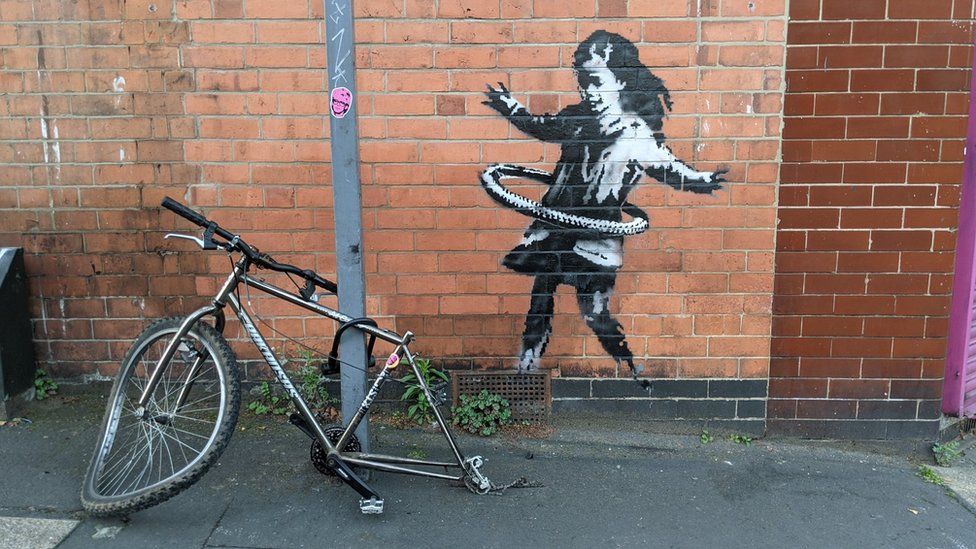 The graffiti artist Banksy has confirmed a piece of art that appeared in Nottingham was created by him.
The work, outside a beauty salon, shows a girl hula-hooping with a bicycle tyre. It went up on Tuesday, next to a bicycle that is missing its back wheel.
Amid speculation over whether the piece was a Banksy, a screen was fitted to it. In an ironic twist, soon afterwards the screen was sprayed with graffiti.
The salon the artwork appeared outside is on the junction of Rothesay Avenue and Ilkeston Road in Lenton, a popular residential area for students.
After Bansky's confirmation he was the creator, people began arriving to have their photographs taken with the artwork, with about 30 people there at one point, as well as police officers.
Nicola Marshall, 39, from Clifton, Nottingham, came with her son Klaye to see the work. She said: "It's a bit of positivity with all this coronavirus going on."
Danial Ahmer, 23, a student who lives on Rothesay Avenue, said: "I think it's eye-catching. It was a bit surreal and random to see it here though."
Banksy expert Prof Paul Gough, from Arts University Bournemouth - who initially doubted whether it was the real deal - said he was "really pleased" the work was by the artist.
Talking about the meaning behind the artwork, he said: "It is curious. The last four or five [Banksy pieces] have all related to Covid or something in the news. This is much more whimsical and much more of the moment. It is someone enjoying themselves.
"Perhaps that is the message: 'we are in difficult times, let's try to make the most of it and get some fun out of something which is broken'.
"The hoop is holistic. The circle is a positive and life-affirming. Even with a knackered bicycle, she is finding something she can play with."
He added: "The Nottingham picture is a different kind of [Banksy] painting to what I have seen before. There is less fluidity and a more pixelated effect, especially around the chin and parts of the face."
Banksy began spray-painting trains and walls in his home city of Bristol in the 1990s, and before long was leaving his artistic mark all over the world.
He is famed for poking fun at big companies and sending political messages through his work.
At the scene - David Pittam, BBC News
On an unassuming street off the edge of the city of Nottingham there's an almost seaside atmosphere.
The excitement has brought people of all ages, backgrounds and parts of the city together, with a constant stream of people queuing to take a picture with the artwork.
There's even an ice cream van and a hula-hooper to complete the picture.
Many are just happy to have something else to talk about other than the rising levels of coronavirus, and something to put the city in a more positive light - although maintaining social distancing is definitely a challenge.
A spokesman from Nottingham City Council said it was "amazing" Banksy had confirmed the work was his, adding "we obviously don't know why he chose Nottingham but we're a city famous for our rebels, like Robin Hood of course".
He said: "The fact that the artwork features a bike could be a reference to the Raleigh factory that used to be nearby, famous for its role in Saturday Night and Sunday Morning, the novel by local author Alan Sillitoe and iconic 1960 film starring Albert Finney."
The council fitted the temporary cover to the work earlier in the week and now it is known to be a genuine Banksy, advice will be taken on what should happen next, said the spokesman.
He added: "We know people will be tempted to come and see it for themselves but we need to avoid large gatherings during the current pandemic, so we would urge everyone to please stay away."