Drone used to search River Trent for missing car and occupants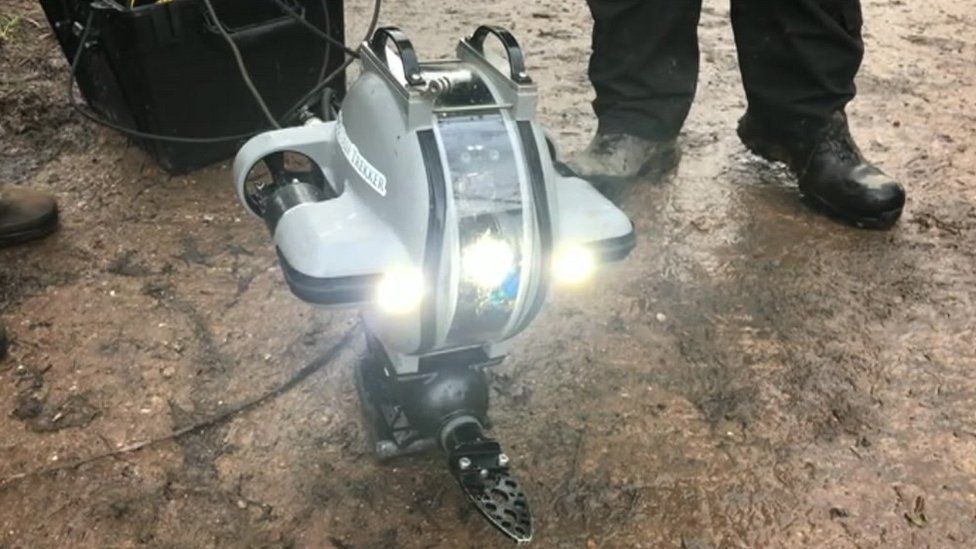 An underwater drone is being used to search for two people feared to have been inside a car seen floating in the River Trent.
Witnesses reported seeing the car in the water near Hoveringham, Nottinghamshire, on Monday afternoon.
Police said an object, possibly a vehicle, had been found but difficult conditions prevented them reaching it.
The Environment Agency drone is equipped with a camera, spotlights and a hydraulic arm.
Louise Cresswell, regional director for the agency, said: "The drone is usually used to inspect underwater flood defences and structures, to give information about any repairs needed or any debris that need to be removed."
She said it could descend to a depth of 100m (328ft) and feed live pictures and data back to an operator.
Police, fire crews and the ambulance service responded after the alarm was raised just after 16:00 GMT on Monday.
A number of witnesses said the car drifted downstream in the river, which is swollen by recent rain.
Officers said they believed they knew the identities of the car's occupants, and their relatives were being supported by trained officers.
Insp Heather Sutton said: "The river is running very high and fast and visibility is low but we are continuing our efforts to recover the object from the river despite the challenging conditions.
"We are keeping an open mind at this stage as we continue to work hard to establish the facts of how this incident happened."
Related Internet Links
The BBC is not responsible for the content of external sites.