Girls rescued from frozen River Trent were 'extremely lucky'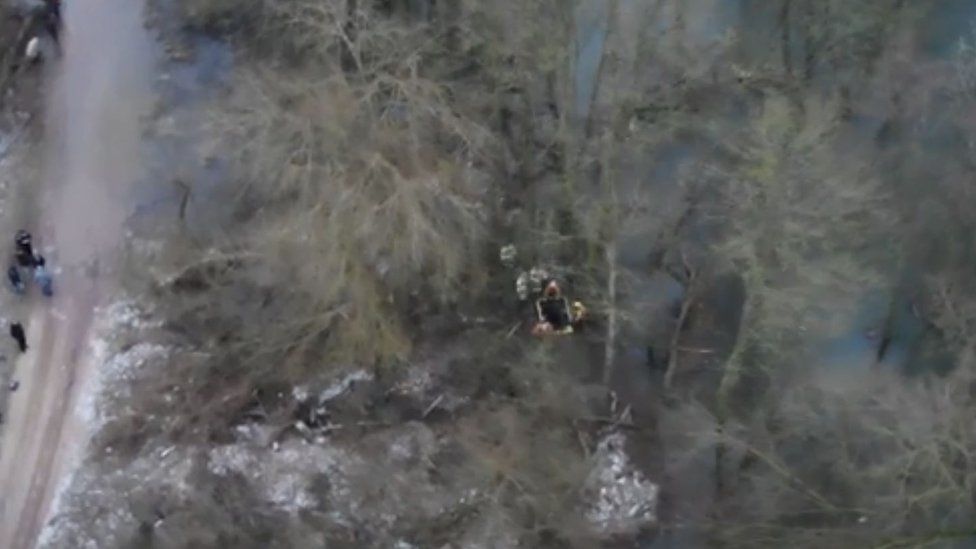 Two 11-year-old girls were "extremely lucky to be unharmed" after becoming trapped on a frozen section of the River Trent, police said.
The girls were rescued in Clifton on Saturday afternoon after a passer-by raised the alarm.
Nottinghamshire Police said the friends were "extremely cold" and treated by the ambulance service.
It captured the rescue on a drone and reminded people not to enter the river, especially when icy.
The force said one of the girls had fallen through ice into the water while the other had made it onto an island surrounded by frozen water but had become stranded.
They were brought to safety with the help of police and firefighters at about 16:45 GMT using an inflatable piece of equipment called a pathway to help them back across the frozen water.
Ch Insp Duncan Southall said: "The girls are extremely lucky to have been unharmed.
"If it hadn't been for the person raising the alarm there could have been tragic consequences. It was getting dark at the time and was freezing cold.
"I hope this serves as a stark reminder to others that it is not safe to play on the ice as it can easily crack and put people in great danger."
David Stevenson, from Nottinghamshire Fire and Rescue Service, reiterated the dangers, adding: "Luckily for us, the girls were rescued and are OK, however this will not be the case for everyone.
"You can very quickly develop hypothermia from cold weather conditions. We cannot emphasise enough that cold water shock can turn into tragedy very quickly."
His mother Nicola Jenkins founded the Open Water Education Network safety programme in his memory and urged parents to talk to their children about the dangers of playing near water and ice.
Related Internet Links
The BBC is not responsible for the content of external sites.