Coronavirus: Apology for 'confusion' after over 40s vaccine U-turn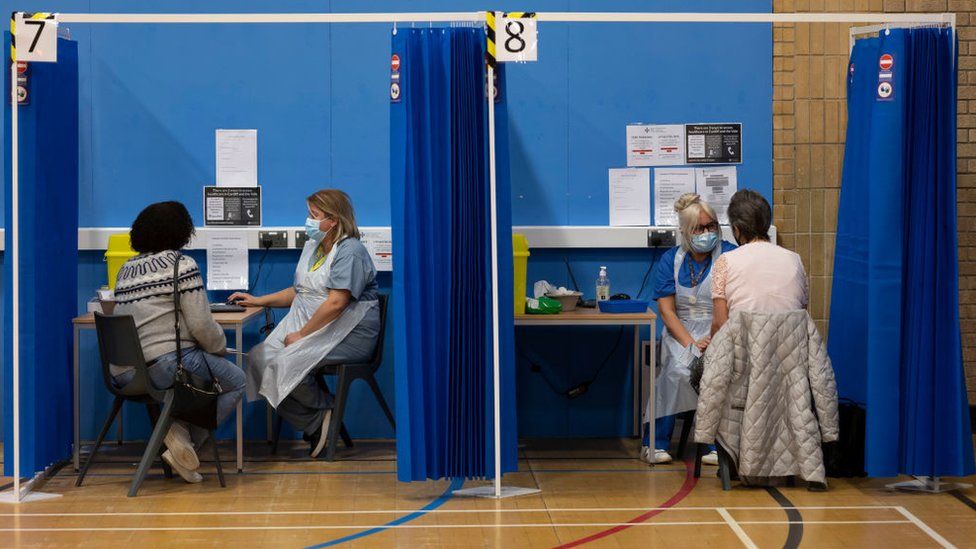 Health bosses have apologised after taking coronavirus vaccines bookings for the over 40s for a few hours before withdrawing the offer.
The Nottingham and Nottinghamshire Clinical Commissioning Group (CCG) said on Monday morning that booking was open to those aged over 40.
But by 12:30 GMT the Swiftqueue site had stopped allowing bookings for the under 50s, prompting confusion.
The CCG said the offer was made "too early" but bookings would be honoured.
On Monday morning it had put out a message saying anyone over 40 could book by phone or online.
This prompted many to try, but then the website stopped allowing them to do so.
Kate Edwards managed to get a same-day appointment early this morning after seeing a post by a local GP surgery and received the vaccine despite only turning 40 last month.
This means she has been vaccinated before her 64-year-old father, who lives in Gloucestershire.
She said: "It didn't appear strange to me because I know the CCG has been doing an amazing job and whizzing through the vaccinations.
"I sent the link to everyone I knew over 40. We've all been waiting for it and I thought it was our turn.
"But about 30 minutes later they were saying they couldn't get on, that it was only for over 50s.
"They were asking, what's going on?
"There's been a lot of confusion."
There has been some regional variation in the vaccination rollout in England and the UK, but experts are saying all over 50s will have been offered at least one dose by the end of the month.
The over 40s will then be the first of the second phase of vaccinations.
Earlier this afternoon booking website Swiftqueue said it would stop offering Covid vaccinations to the over 40s.
It apologised for "the confusion caused".
But the CCG's original tweet about over 40s being eligible remained up for a number of hours after this.
In a later statement, a spokeswoman apologised to those who had been trying to book a slot.
She said: "The booking system was opened too early to people over 40 and has now been reset to offer appointments to people over 50.
"All appointments booked this morning will be honoured."