Homes in Trowell evacuated after gas substation fire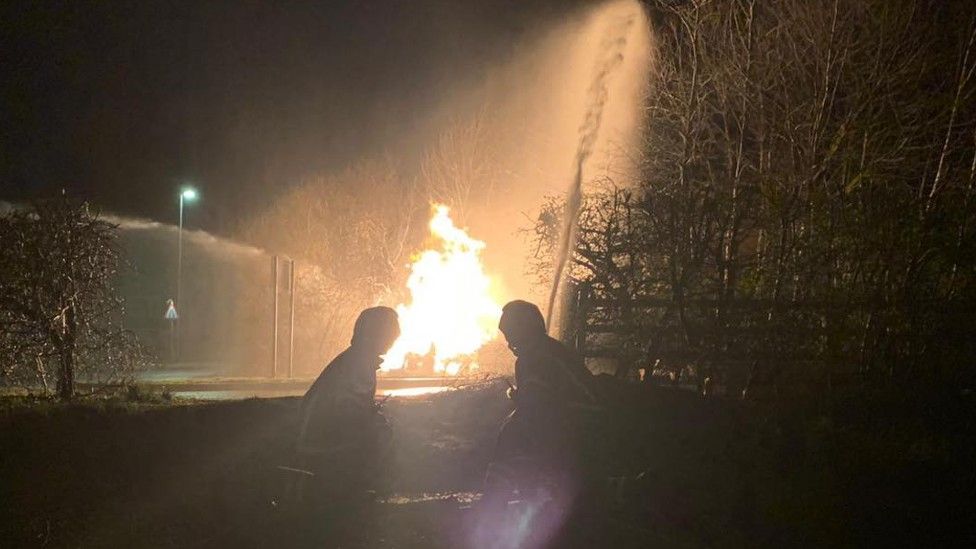 Dozens of houses have been evacuated near the site of a fire in Nottinghamshire.
Police and fire crews were called to Pit Lane, in Trowell, at about 18:00 GMT to reports of flames coming from a gas substation by a road junction.
The fire service said the residents of about 100 properties had been moved as a precaution.
Gas infrastructure firm Cadent said it believed the problem centred on a valve but there was no risk of an explosion.
Four fire crews from Stapleford, Ilkeston and Highfields attended, along with a specialist water bowser from Loughborough Fire Station.
Insp Ben Lawrence, of Nottinghamshire Police, said: "Following advice from gas safety experts, a number of properties within 200 metres of the fire have been evacuated while emergency services deal with the incident and residents have been relocated to a nearby community centre and parish hall.
"No injuries have currently been reported and police have cordoned off the area while investigations continue.
"We would advise people to please stay away from the area while the incident is being dealt with."
Officials said the blaze may take some hours to extinguish completely.
Cadent said supplies in the area had not been interrupted and investigations into the cause would start as soon as possible.
Related Internet Links
The BBC is not responsible for the content of external sites.