Covid: Man dies after cancer op halted due to pandemic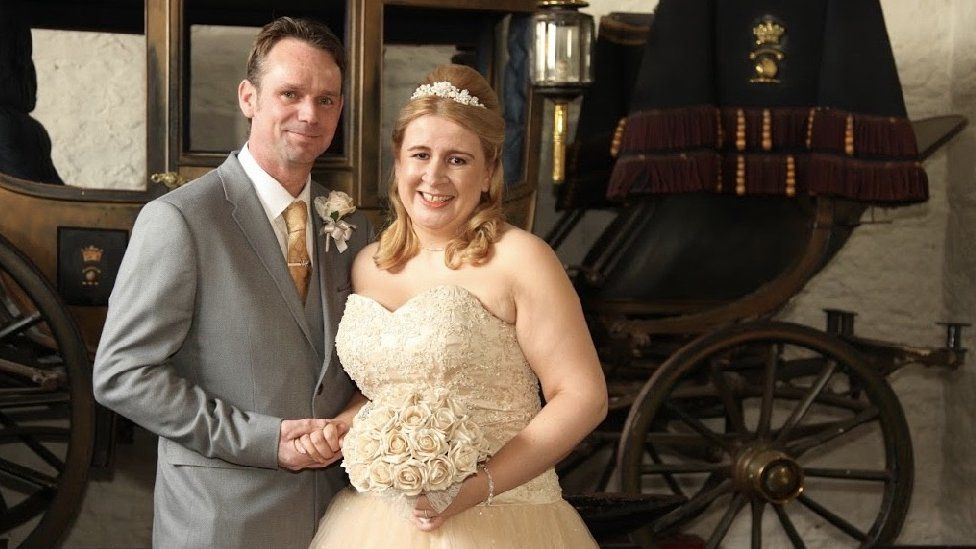 A man who missed out on a potentially life-saving cancer operation due to the Covid pandemic has died.
Adrian Rogers, from Nottinghamshire, was due to undergo surgery for bowel cancer in April last year.
But the procedure was cancelled as medics felt it was too risky for him to share an intensive care ward with Covid patients.
Following the delay, the 46-year-old's condition became inoperable and he died in February.
Mr Rogers, from Retford, had been diagnosed with stage four bowel cancer in July 2018.
After 52 rounds of chemotherapy, he was told the cancer had become operable and he was booked in for surgery at the Manchester Royal Infirmary.
But following the cancellation, a further 20 tumours grew and he was informed surgery was no longer an option.
He resumed chemotherapy and a fundraising push by his family saw tens of thousands of pounds raised for the drug Avastin, which is not available on the NHS.
But at the start of this year he suffered liver failure and he died on 27 February.
His wife, Amanda Rogers, said she could not help but think about how different things might have been had the surgery gone ahead.
"I definitely feel we wouldn't be where we are now if he had got to have his operation," she said.
"I know people say not to think 'what if' but I can't help it.
"Adrian never gave up hope. He was always thinking of our future together.
"He was my hero, my one in a million and I will treasure every moment we had together."
Cancer Research UK said the pandemic had caused "enormous" disruption to cancer services in the UK, with 12,750 fewer patients undergoing surgery between March and June 2020.
A spokesperson for Manchester Royal Infirmary said: "We wish to extend our deepest sympathies and condolences to the family of Adrian Rogers.
"Our thoughts are with them at this very sad time."
Related Internet Links
The BBC is not responsible for the content of external sites.