Jeremy-like baby 'lefty' snail raised in Nottingham lab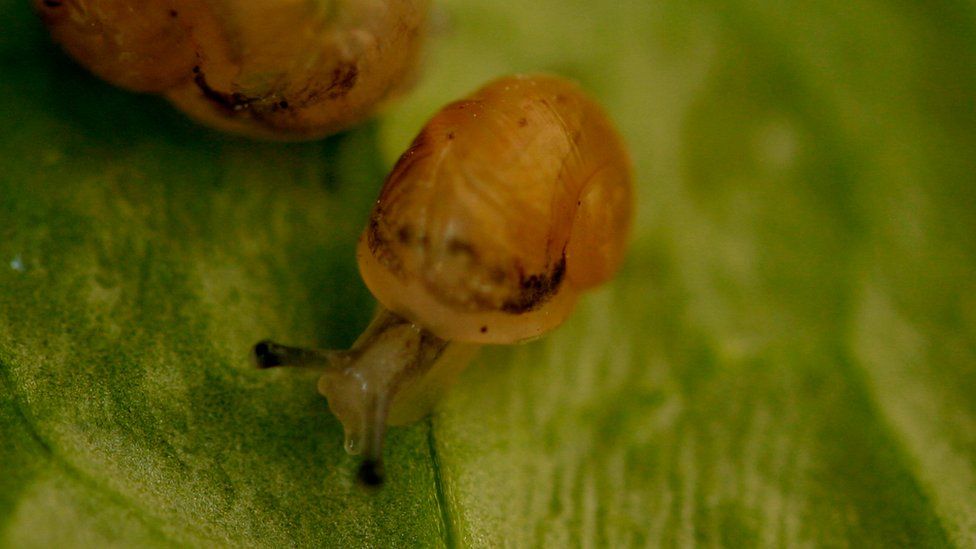 A scientist who helped a famous left-coiled snail find love has finally raised another "lefty" snail in his lab.
Dr Angus Davison, from the University of Nottingham, said he had hatched about 10,000 snails to try to find another with an anti-clockwise shell.
He has again appealed to the public to help find the newborn a "lefty" mate.
Dr Davison sparked a media sensation with his love quest for Jeremy, which eventually landed him with mate Tomeu.
Initially two mates were found for Jeremy, Tomeu from Majorca and another "lefty" in Ipswich but they initially ended up mating with each other.
However, Tomeu had a change of heart several months later and eventually produced about 20 snails which were thought to have been fathered by Jeremy.
All of the young, which hatched about a week before Jeremy died, had right-spiralling shells.
Timeline of Jeremy's love quest
October 2016: The University of Nottingham appealed to the public for help in finding Jeremy, who was from London, another "lefty" to mate with. So-called righties and lefties can't get it on because their genitals are in the wrong place
November 2016: Two potential mates were found and sent off to the University of Nottingham. One was spotted crawling up a tree in Ipswich and the other had escaped "the pot" at a snail farm in Majorca
May 2017: Jeremy was left on the shelf. The two lefty snails decided to mate with each other and all 170 of their young were right-coiled
October 2017: Jeremy produced offspring - they hatched on 5 or 6 October
October 2017: Jeremy dies on 11 October
Dr Davison, from the university's school of life sciences, said he has been breeding "lefty" snails ever since to understand why they grow up as a mirror image to all other garden snails.
"After hatching around 10,000 baby snails, I had almost given up hope of ever finding and raising a lefty snail, so was really delighted to finally find one," he said.
There is a serious scientific aim to Dr Davison's work as he has discovered a gene that determines whether a snail's shell twists in a clockwise or anti-clockwise direction.
He said the same gene affected body asymmetry in other animals, including humans, which could help us understand how organs are placed in the body.
"Our previous work - which was only possible because of the public's help in finding other rare lefties - helped explain why they are so rare," he said.
"An accident in the first few hours of the snail's life means that the embryo cells just sometimes twist anti-clockwise rather than clockwise, ultimately producing a snail with an anti-clockwise shell, rather than the normal clockwise shell.
Dr Davidson has asked anyone who finds a "lefty" garden snail that could be a potential mate for Jeremy junior to get in touch with him.
Related Internet Links
The BBC is not responsible for the content of external sites.