Covid: 'Frightening' scenes prompt Nottingham park closures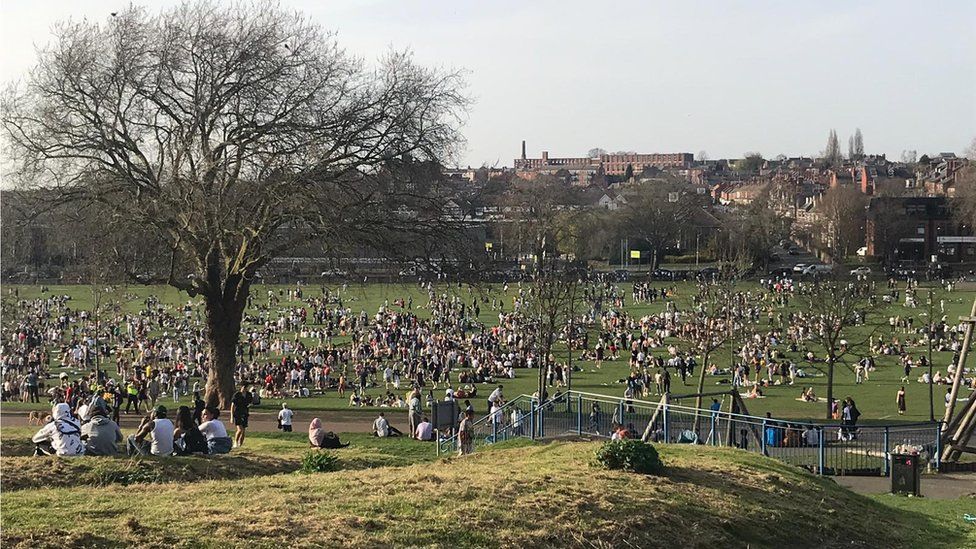 Council bosses have closed two parks in Nottingham to deter large crowds and a repeat of recent "appalling scenes".
It follows a second day of large groups and litter being left behind - this time at Forest Recreation Ground, which remains open.
Lenton Recreation Ground has been closed after "similar problems arose".
Mr Mellen said the council regretted "having to take this action, since everyone has been looking forward to the chance to visit our parks" now restrictions have been eased.
"Sadly, the actions of a thoughtless minority has spoilt that. We will keep the situation under review and hope to reopen parks as soon as possible.
"The Forest Recreation Ground remains open and is a larger, safer space where people can spread out more easily."
On Monday restrictions were relaxed in England to allow two households or groups of up to six people to meet outdoors.
Footage shared on social media showed people celebrating, drinking and brawling at the Arboretum in the afternoon and evening.
The following day police introduced a dispersal order on parts of Nottingham to prevent large crowds and banned alcohol from the Arboretum.
Mr Mellen said the good weather had played a part in the "frightening" scenes but urged people to behave.
"Clearly the activity at the Arboretum on Monday was unacceptable where people had a lot to drink, were climbing trees trying to break branches off, urinating in the flower beds and just being far too close together," he told BBC Radio Nottingham.
"While we understand after a long time of being locked up people want to get out in the fresh air and enjoy our beautiful parks... we can't have behaviour that puts themselves and other people at risk."
He said Tuesday had seen better adherence to the Covid rules but the Forest Recreation Ground had been left in a mess.
7.30am- now...

We are lucky to have beautiful parks & hard working teams who look after them. Let's not take that for granted. There is no excuse for scenes like we saw this morning.

Thanks to the cleansing teams & clean champions who have turned this around. Let's keep it nice pic.twitter.com/WsTj0O707A

— Cllr Rebecca Langton (@cllrRLangton) March 31, 2021
Mr Mellen said the city prided itself on its clean parks and urged people to dispose of their rubbish responsibly.
"It is unacceptable and unsustainable for our already thinly-stretched crews to have to be redeployed from work in communities across our city to clear up mess left behind at our parks," he added.
"We have added extra bins - and we implore people to take their rubbish away with them if these become full and dispose of it responsibly."
He said extra patrols were in place in the parks which remained open and police would "rigorously enforce the ban on drinking in public spaces that's in place across Nottingham".
"None of this would be necessary if people took their own personal responsibility seriously, especially at a time when we need to be much more cautious in the way we behave and follow the gradual lifting of restrictions, if we are to hope to put this pandemic behind us."
He added: "We are not saying don't enjoy the sunshine or don't enjoy the space, but just take your rubbish home. Just behave in a way without making life difficult for other people."
Nottinghamshire Police said officers will continue to engage with people to make sure they are sticking to the rules.
Assistant Chief Constable Steve Cooper said: "While we can of course understand people's desire to want to be out in the sun and enjoying these mild temperatures we are currently experiencing, the government and our health colleagues remain extremely cautious and advise that people continue to minimise social contact."
Related Internet Links
The BBC is not responsible for the content of external sites.