Visually-impaired woman 'frightened' by e-scooters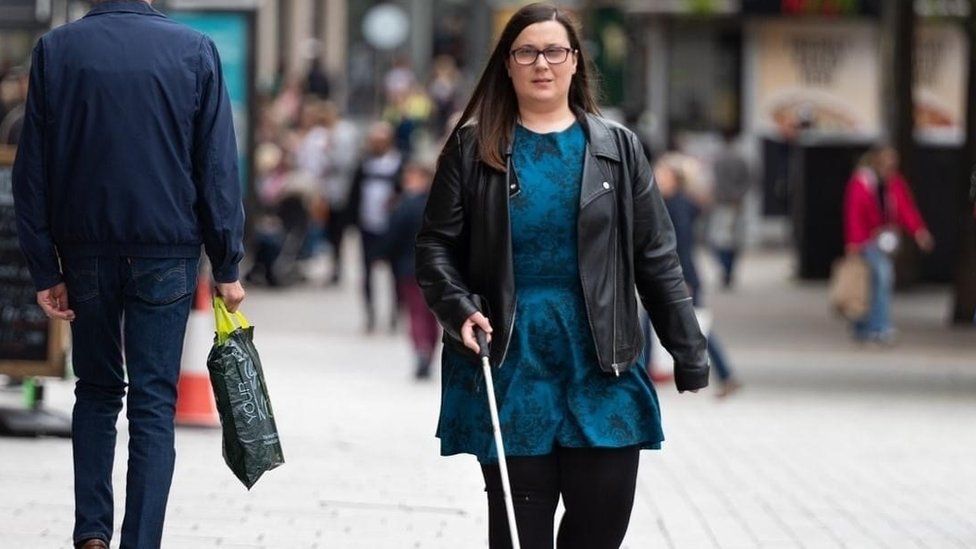 A visually-impaired woman left injured and "frightened" by e-scooters is calling for more to be done to monitor a city's trial of the vehicles.
Rachael Pereira said she has experienced 14 instances of e-scooters causing or nearly causing her injury.
Her home city of Nottingham is one of a number of areas trialling government-approved e-scooters.
Wind Mobility, which runs the scheme, said it would address any issues that emerged during the trial.
Ms Pereira, who has retinal cell death and glaucoma, relies on a white cane to navigate the city centre but said that has become more challenging due to e-scooters.
The 34-year-old said around the time the year-long initiative started in October, one nearly hit her.
"It was so close that I felt the wind from his movement on my face as he went by," she said.
"I was really frightened because I didn't know what it was, and I was disorientated and thought I must have stepped into the road. A passer-by told me not to worry and explained what had happened."
Ms Pereira said she has also bumped into e-scooters several times, including falling over one left outside a shop.
She said: "It was smack bang in the middle of the pavement. I was not expecting it to be there and I fell over it as I bumped into it.
"I injured my shin and it was pretty painful."
She added: "I do understand people find them a good way to get about, but they have made me feel a lot more anxious, even just to walk down the pavement, which is supposed to be a safe place for pedestrians.
"The use of the trial e-scooters in Nottingham city centre needs to be much better monitored, else someone is going to be seriously injured."
E-scooters: Where can you use them?
Electric scooters are classified as "powered transporters" by the Department for Transport (DfT) and are subject to all the same legal requirements as a motor vehicle.
It is illegal to use an e-scooter on a public road, pavement or cycle lane.
E-scooters can only be used on private land with the permission of the landowner.
E-scooters that are rented from DfT-approved schemes - like those in Nottingham and Derby - can be used on the road (except motorways) and in cycle lanes.
The trial rules do not apply to privately-owned e-scooters.
Alexandra Jones, from the Guide Dogs for the Blind Association, said the charity was "saddened" to hear of Ms Pereira's experiences, adding there is concern that as e-scooter use increases, "more people with sight loss will feel forced to stay at home".
Wind Mobility said pavement riding and irresponsible parking were the most frequent complaints about the vehicles.
A spokesman said: "We have already taken a number of measures to address these, including educational videos and communication, the introduction of penalties - such as a suspension of the user account - and marking parking bays."
It said number plates would be added to help identify irresponsible riders and "patrollers" would be employed to "roam around the city and take action against anyone caught pavement riding, or parking their e-scooter irresponsibly".
"We are also including labels with contact information of our UK customer service in Braille. For visually-impaired people, the yellow colour of the scooter also contributes to better visibility and the horn warns other road users with a 100-decibel signal of approaching e-scooters," the spokesman added.
Nottingham City Council, which is working with Wind, added all e-scooters are limited to 15mph and fitted with a bell.
Related Internet Links
The BBC is not responsible for the content of external sites.