Afghanistan veteran who lost leg heartbroken at Taliban's return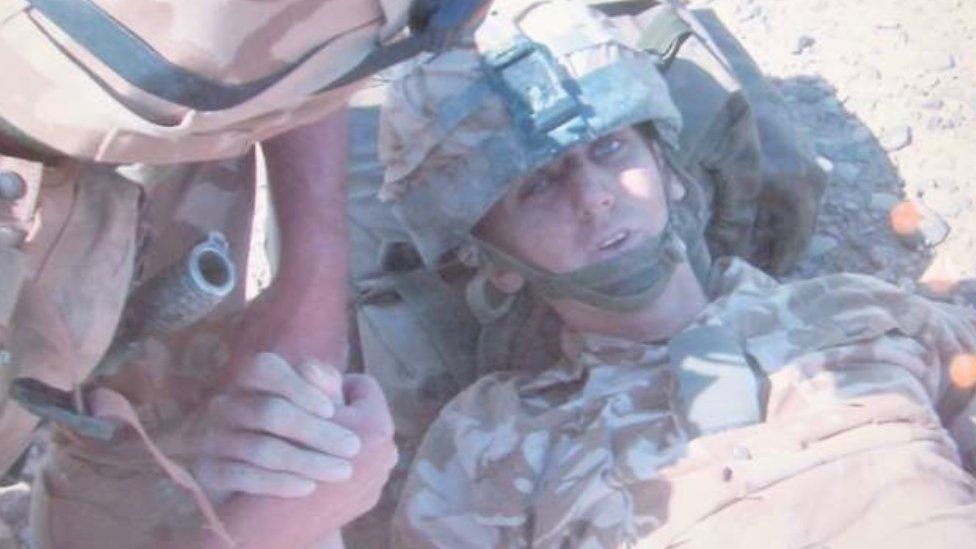 A former soldier who lost his leg while serving in Afghanistan said he is "heartbroken" the country has returned to Taliban control.
Johno Lee, now a county councillor in Nottinghamshire, was injured in a minefield explosion in October 2007.
He said he was in "complete disbelief" at the way events had unfolded in recent weeks.
The 38-year-old said he felt like the sacrifices he and other veterans made had been "wiped out" in weeks.
On Sunday, the Taliban declared victory when they regained the Afghan capital of Kabul almost 20 years after being ousted from power by the US-led military coalition.
Mr Lee said seeing the fear and desperation among people living there had made him angry and upset.
"It's heartbreaking to see our sacrifice in Afghanistan being completely wiped out," he said.
"To see areas where we literally gave blood, sweat, tears and limbs to hold it from Taliban fighting, to give people a better life, fall within hours is absolutely heartbreaking.
"I just can't understand how the country was allowed to fall in less than two weeks."
Mr Lee said it became clear during his posting that the Afghanistan army would struggle to cope without the support of foreign military personnel.
He said: "One thing we saw very early on was that the Afghan national army were not interested.
"When we'd go out on patrols with them in the morning, they would still be fast asleep, they were falling asleep on guard.
"So the one thing a lot of us were worried about was that when we did pull troops out, whether they were going to have the ability to do it on their own.
"My biggest job when I was out there was to train the Afghan national army and it just feels like they just haven't been able to do it [defend the country].
"I'm hearing stories where they've literally just put down their weapons, handed over their vehicles and walked away."
The subject of why the Afghan army was unable to hold off the Taliban's swift advance has been widely discussed by military experts.
"I'm just absolutely heartbroken for the serving soldiers and the soldiers who have left, who have picked up their dead friends off the floor," said Mr Lee.
"And I'm absolutely heartbroken for the Afghan people."