YouTube boast gang leader convicted of Nottingham shootings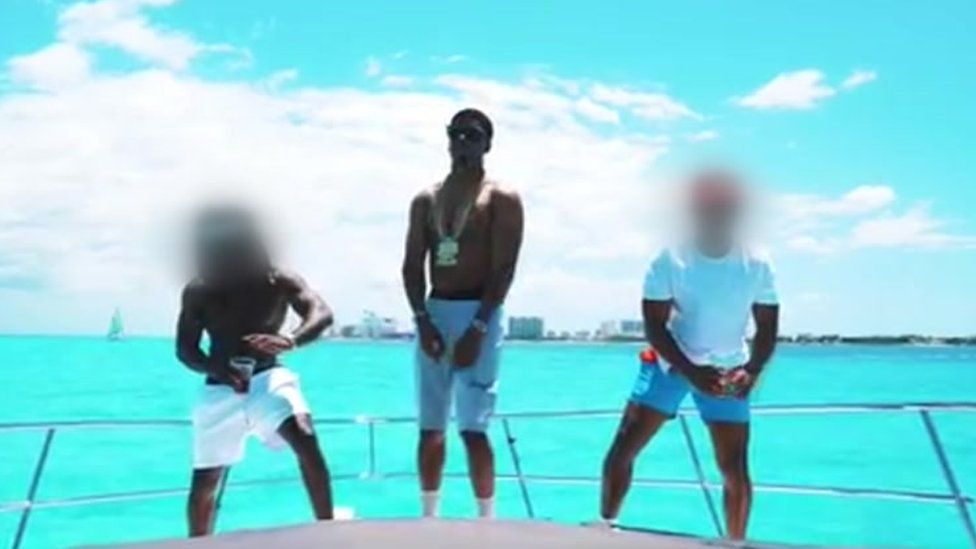 The leader of a drugs gang who bragged about his lavish lifestyle in YouTube music videos has been convicted over a spate of shootings.
Akeem Chand, 27, was arrested over the shootings in the Nottingham area in 2018 and 2019.
He was found guilty with five others of drugs and firearms offences after a trial at Nottingham Crown Court.
Nottinghamshire Police said the men were "dangerous" and "undone by their own arrogance and recklessness".
The court heard the shootings took place over several months, with four in May 2019 - including one attack which saw Chand shoot a rival gang member in the neck after firing at his car in Brindley Road, Bilborough.
Days later the force said a bullet was fired through Chand's house in Melbourne Road, Aspley in another "tit-for-tat shooting".
Police said between July 2018 and June 2019 Chand and his accomplices made extremely large sums of cash which they flaunted by buying expensive jewellery, designer clothes and luxurious holidays.
They then boasted about their drug-funded wealth, and selling heroin, cocaine and cannabis, in music videos posted on YouTube under Chand's stage name Brutz.
One video was filmed in a Bestwood flat used as a safe house, where police said they found drugs and four semi-automatic loaded pistols.
Police said they were able to gather a "treasure trove of damning evidence" and catch Chand after placing a surveillance bug in his car.
For several days the device recorded Chand and his friends conducting drug deals and plotting a revenge shooting against a rival gang member, when shots were fired at a house in Hazel Hill Crescent, Bestwood.
Det Ch Insp Richard Bull said it was "amazing nobody was killed".
"This was a very dangerous gang whose members were making huge sums of money from a widespread and sophisticated drug dealing network.
"Ultimately, however, they were undone by their own arrogance, recklessness and meticulous police work.
"Here we had a group of young men with almost no discernible legal income between them living the lives of music stars or footballers - spending quite incredible sums on jewellery, holidays, designer clothes and the other trappings of wealth."
The following men were convicted by a jury of two charges - conspiracy to possess a firearm with intent to endanger life and conspiracy to possess ammunition without a certificate.
Akeem Chand, 27, of Melbourne Road, Aspley
Orlando Escoffrey, 26, of Fenton Road, Basford
Devante Neufville, 24, of no fixed address
Quarnell Simpson, 23, of Nuthall Road, Aspley
Keifer Smith, 28, of Dallman Close, Hucknall
Alexsandro Woolery, 27, of Portland Road, Carlton
They had also previously admitted charges of conspiring to supply class A and B drugs.
Two other people also admitted charges before the trial.
Ravan Mather-Simpson, 25, of Mansfield Road, Nottingham, pleaded guilty to conspiracy to supply class A and B drugs.
Sarah Aplin, 27, of Wyton Close, Bestwood, admitted allowing a premises to be used for the supply of controlled drugs.
DCI Bull said detectives were not able to prove conclusively who pulled the trigger in every offence but argued the men had all conspired together to store and use the weapons.
He added: "We knew exactly what they were up to but were still faced with the challenge of getting enough evidence to prosecute them.
"All the more incredible was the fact they made so little effort to spend their money discreetly - choosing instead to brag on social media posts about just how much of it they were spending.
"It was, however, their ready use of violence that led to their undoing."
Chand and five others were found guilty last week but restrictions on reporting the case were only lifted following a hearing on Wednesday.
All eight defendants will be sentenced on Monday 25 October.
Related Internet Links
The BBC is not responsible for the content of external sites.