Nottingham's Kanneh-Mason family perform festive songs for TV special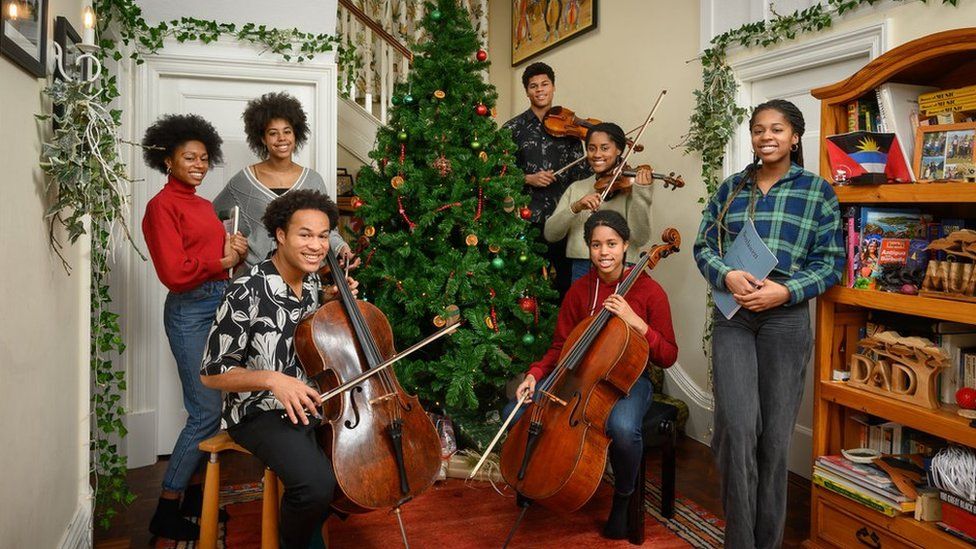 One of the world's most famous classical music families will perform their favourite festive songs for a TV Christmas special.
The show features all seven Kanneh-Mason siblings as they return home to Nottingham for a seasonal celebration.
The BBC Two one-off programme A Musical Family Christmas also includes home movie footage from previous years.
Their mum Kadiatu said Christmas would not be the same without her children making a noise and making music.
The family first shot to fame when six of them reached the semi-finals of Britain's Got Talent in 2015.
In the film, Isata, Braimah, Sheku, Konya, Jeneba, Aminata and Mariatu add a musical element to the festivities with duets and an impromptu performance with local carol singers.
They also perform their favourite songs including Mary's Boy Child, We Three Kings, Santa Baby, and Bob Marley's Who The Cap Fit.
Parents Kadiatu and Stuart also share home movies from Christmas over the years, including footage of funny "outtake" moments, and reveal the importance of music in their lives.
"Christmas wouldn't be Christmas unless everybody was at home. I can't imagine Christmas as a small, quiet affair," Mrs Kanneh-Mason said.
"The house is meant to be noisy, it's meant to be full of music and young people's voices, and I like it like that.
"It's wonderful when they get the instruments out and perform together."
Eldest child Isata said Christmas was the one time they were all home together.
She added: "We still do the majority of our concerts in the UK but we're starting to perform a bit more in America and Europe as well, so it's not that often it's all nine of us together.
"Christmas has always been, for me, very much a time to shut off from the world and just be within the family."
A Musical Family Christmas with the Kanneh-Masons will air on Christmas Day at 20:35 GMT.