Nottinghamshire's Benton the tram cat honoured with shelter memorial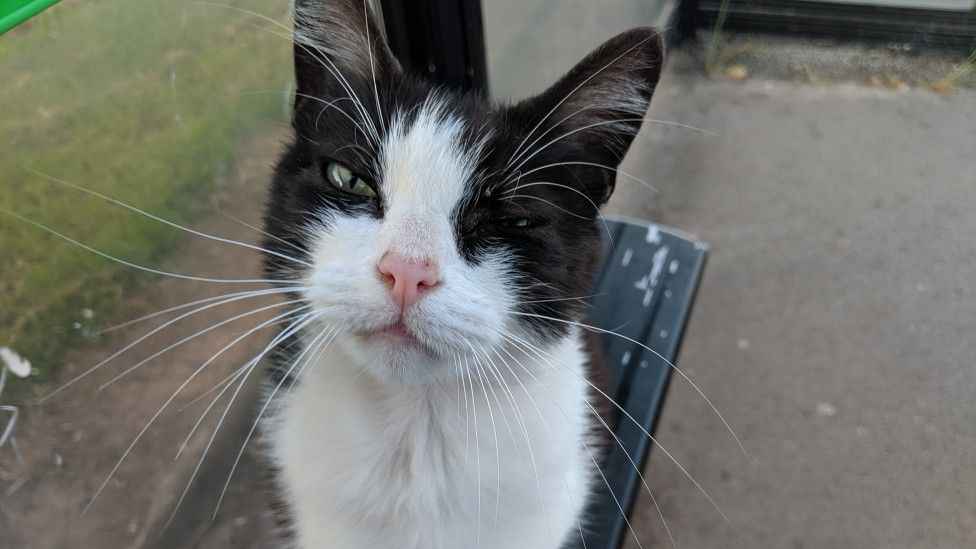 A memorial for a cat who befriended passengers at a tram stop has been set up at his favourite spot.
Former stray Benton welcomed people at the Inham Road stop in Chilwell until his death earlier this year.
The black and white moggy became a social media hit when his owner started recording his appearances on Facebook.
Now a poster has been added to the information board at the shelter, saying he "brightened the days of so many commuters".
Owner Ginny Hicks, who rescued Benton when he was about four months old, said he would have lapped up all the attention.
"He would have loved this, he would be around everyone and you would all be covered in cat fur," she said.
"He spent six years coming down here and it's empty without him, so it's like we have a little bit of Benton here still."
She said the way the community took him to their heart was unexpected.
"First surprise was when I put his name on Beeston Updated on Facebook just letting people who saw this black and white cat know what his name was," she said.
"I had about 100 comments and I realised how many friends he had."
In an example of the impact he had, Ms Hicks said he once "cadged a ride" home from the tram stop with a boy in a wheelchair.
"His mum got in touch to say it made her son's day," she said.
Stephanie Moss-Pearce from NET said: "Benton the tram stop cat was a local hero that put a smile on the face of everyone he met, helping the important role of the tram in bringing communities together.
"We hope the memorial is a fitting tribute to Benton and the fond memories he brought to tram users and local residents."
Related Internet Links
The BBC is not responsible for the content of external sites.