Nottingham and Derby e-scooters to be upgraded after safety concerns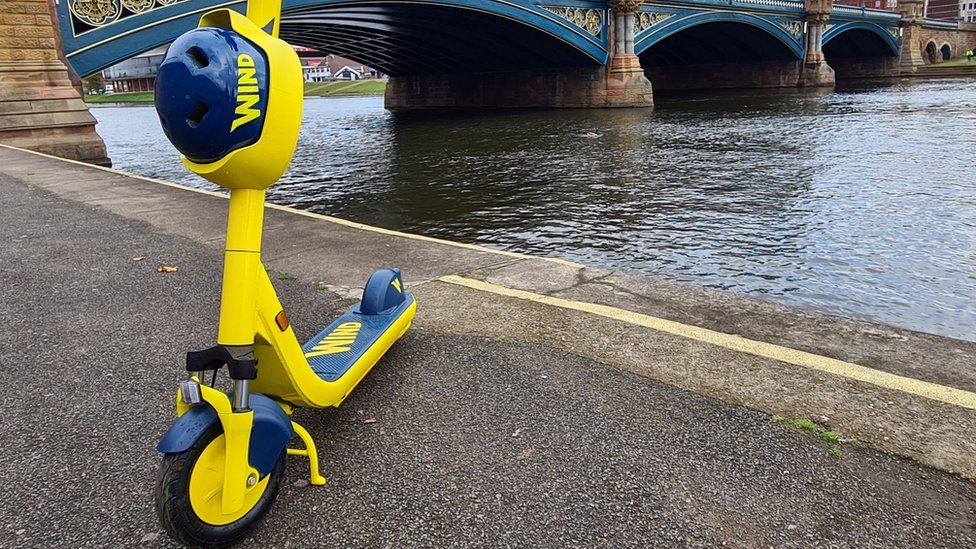 Electric scooters in two cities are being upgraded following complaints about safety and damage.
Government-approved trials have been taking place in a number of areas, including Nottingham and Derby, since October 2020.
Operators Wind Mobility announced on Tuesday that it would be replacing the existing scooters with new ones, which it said would be safer and sturdier.
The company said the new scooters, which are being brought in as part of a £3m investment, are wider and longer than industry convention.
They are also built to keep riders in designated areas with the help of onboard maps and geofence commands.
The operator has also said it will employ a new "community manager" in Nottingham to address people's concerns and lead safety training sessions.
It will be giving out free helmets rather than having them attached to the e-scooter, and the minimum age to rent one has been raised from 16 to 18.
Users will have to download the LINK app as the previous app will no longer work. Wind said any money left in people's old accounts would be automatically refunded.
In November, the 12-month initiative was extended until November 2022.
Councillor Rosemary Healy, portfolio holder for transport at Nottingham City Council, added: "We welcome the introduction of this new e-scooter, which offers an opportunity to further address some of the key issues we've seen during the trial so far, especially around the safety of both riders and pedestrians."
Lukasz Rybak, city operations manager at Wind, said: "With more than one million rides over the past year, Wind's Nottingham and Derby e-scooter trial has been among the most popular in the UK.
"Upgrading our fleet to LINK e-scooters will enhance the safety of the scheme, reduce repairs, cut waste, extend service life and increase fleet availability."
Related Internet Links
The BBC is not responsible for the content of external sites.