Ardley incinerator deal set to be signed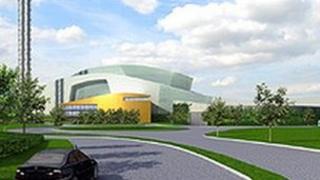 Oxfordshire County Council is on the verge of signing a multi-million pound contract for an incinerator despite not having planning permission.
An application by waste firm Viridor to build the plant near Bicester was thrown out last October on grounds it would harm the rural landscape.
The firm challenged the decision and an appeal is currently under way.
The council said a delay could result in higher costs but any contract would be subject to planning permission.
The council's ruling cabinet is set to agree to sign a contract with the firm in September.
'Key milestone'
Councillor Ian Hudspeth, responsible for growth and infrastructure, said: "It is usual for a contract to be signed before planning permission has been granted.
"There is a strong and clear need for a facility to provide an alternative to landfill to dispose of Oxfordshire's non-recyclable waste.
"The process for achieving that moves on and the letting of a contract would be a key milestone if agreed."
But the move has angered campaigners fighting against the incinerator plan.
Jonathan O'Neil, from Ardley Against the Incinerator, said: "How can Oxfordshire County Council even think about signing a contract with a provider who has no facility, no planning permission, no operating permit and no means to fulfil any contract they sign let alone an Oxfordshire residual waste contract for the next 25 to 30 years."
The council's cabinet will discuss the contract on 27 July.
Meanwhile, Viridor has submitted a second planning application for the scheme, which is due to be heard in September.