Antony Worrall Thompson's pub gets low hygiene score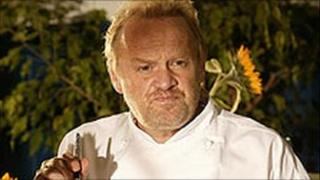 TV chef Antony Worrall Thompson has hit out at a council which gave his Oxfordshire gastro pub one star out of five for hygiene.
He said failing to fill out "bits of paper" led to the low score at The Greyhound, in Henley-on-Thames.
South Oxfordshire District Council said the score meant hygiene was "poor" with "standards generally low".
Mr Worrall Thompson admitted food had been found beneath his fridge and oven during the inspection.
But he said people would need to be on their "hands and knees with a torch" to find it.
'Inbuilt hatred'
He added: "All [the public] want to know is if they're going to be poisoned.
"The public don't care if the paperwork isn't done.
"It's treating everyone as if they haven't got a brain. It's got absurd, the amount of paperwork you have to do.
"There's this inbuilt hatred between Environmental Health Officers and chefs. We should be working together."
A council spokeswoman said the inspection - as part of the Scores on the Doors scheme - was driven by a need to improve hygiene and was carried out in February.
'Need to improve'
In addition to his television work, Mr Worrall Thompson owns two restaurants and a delicatessen.
Council cabinet member for health, Dorothy Brown, said: "Mr Worrall Thompson is mistaken that our Scores on the Doors scheme is overly bureaucratic and driven by paperwork, when it is in fact driven by the need to improve food hygiene standards.
"The Greyhound's one star rating reflects the need to improve not only their food safety management but also their hygiene standards."
Ms Brown added the council would do all it could to help The Greyhound improve its score.