Oxford medics launch study into 'phamtom limb' pain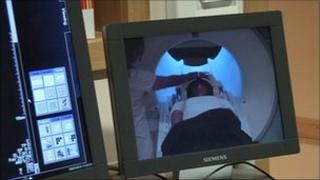 A study into what is described as phantom limb pain has been launched by researchers at a medical unit.
Scientists at the Oxford Centre for Enablement will spend three years using imaging techniques to see how the brain compensates for the loss of a limb.
Trial leader Dr Tamar Makin said: "There's some research that suggests that these changes in the brain may cause phantom limb pain."
It is hoped the study will lead to better treatments.
'Shooting pain'
The research will focus on the hands, as their operation commands one of the largest sensory areas of the brain.
Dr Makin added: "The interesting question is what happens to the brain area that deals with our hands in the case of amputees."
Trial participant Angela Williams, 57, lost her right arm in a road accident at the age of ten.
She said: "Sometimes I get a shooting, sharp pain or it can just be an itch.
"But there's nothing to scratch because there's nothing there."
The trial is being carried out in collaboration with the Oxford Centre for Functional MRI of the Brain based at the John Radcliffe Hospital.