Pre-school buildings under threat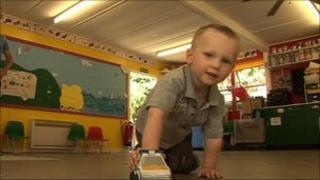 Plans to repair and rebuild eight pre-schools in Oxfordshire are now in doubt after it was announced government funding could be cut.
Projects in Sonning Common, Grove, Berinsfield, Cumnor, Kidlington, Bicester, Witney and Benson were to share £2.3m worth of investment.
The government has announced it is going to re-evaluate all Sure Start, Early Years & Childcare Capital Grants.
The Department for Education said it needs to save £1bn by next April.
Construction on the new £450,000 pre-school in Sonning Common had been due to begin in September for completion early next year.
The school is already in the process of moving to temporary premises in time for this September term.
'Gutted and disappointed'
Matthew Thoreau, chairman of the Sonning Common Pre-school Management Committee, said: "We're obviously very gutted and disappointed.
"The building we've got was second hand when it was given to us some 30 years ago.
"For the last two years it's been in need of a new roof and new floor."
Keith Mitchell, leader of Oxfordshire County Council, said: "It's very frustrating, I know it is, it's a reflection of the national position, the debt position, we're in.
"We're going to have a lot more decisions like this over the next three or four years."
The council is trying to persuade civil servants the deal is close to being signed and they should not pull the money.
A spokesman for the Department of Education said: "In July the Department for Education announced the need to reduce its end year flexibilities (EYF) of £1bn by the end of this financial year to help ensure no additional borrowing is required this year.
"Savings to specific capital budgets totalling £169.5m were confirmed, however it was indicated that other additional savings would need to be achieved in order to meet the £1bn total required.
"Play capital is supported by these End Year Flexibilities and so is having to contribute its fair share of the savings that need to be identified."
Education Secretary Michael Gove has been reviewing Labour's Building Schools for the Future scheme since the election.
A total of 43 schools across Oxfordshire will not receive funding for refurbishment as a result of the cancelled scheme.