Waste incinerator bid for Sutton Courtenay withdrawn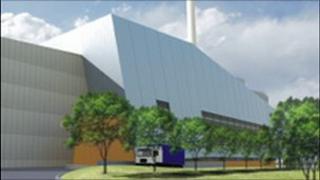 Plans for an incinerator at Sutton Courtenay in Oxfordshire will not go ahead, according to the company behind the proposals.
The Waste Recycling Group (WRG) said it would not continue with an application for an operating permit.
Planning permission for the facility was turned down last year.
A separate incinerator for Ardley was also refused planning permission. An appeal decision is expected later in the year.
WRG said it wants to develop an alternative way of treating waste at the landfill site instead.
A planning application for a mechanical biological treatment plant is expected to be submitted in August.
A spokesman from WRG said Oxfordshire still sends 200,000 tonnes of waste to landfill.
He said: "If Viridor's appeal is unsuccessful, Oxfordshire will urgently need to find another disposal route for its residual waste.
"An MBT plant at Sutton Courtenay could help meet that need."