Speed camera cuts backed by Oxfordshire council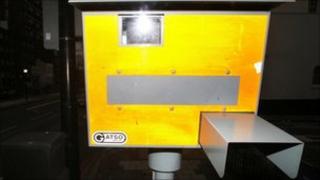 Oxfordshire is poised to lose its speed cameras after the county council approved £13m of cuts, including road safety funding.
Council leaders want to save £600,000 from their road safety budget - money which would have been given to the Thames Valley Road Safety Partnership.
The partnership operates the county's 72 fixed and 89 mobile camera sites.
Last week it said if the council backed the cuts, the cameras would be withdrawn by the end of the month.
'Immediate effect'
At the time, the partnership said the cut equated to a 71% drop in its income from the council and enforcement at mobile sites would cease "with immediate effect".
The council backed the cuts at a meeting on 20 July. The full council then ratified the vote on Tuesday.
While cameras generate revenue from fines, the road safety partnership said any money went back to central government through the courts.
A spokesman said last week that the county council was merely passing on cuts imposed by central government.
In July last year, Swindon Borough Council became the first English local authority to abandon speed cameras, but Wiltshire Police vowed to continue using mobile cameras.