Village may 'adopt' speed camera after Oxfordshire cuts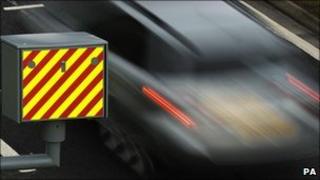 An Oxfordshire village may adopt its own speed camera after the county council decided to axe them all.
Villagers in Nuneham Courtenay are worried drivers will flout the speed limit along the A4074 once cameras are scrapped in August.
The county council approved cuts of £13m, including road safety funding, which it can not afford.
Fay Benson, chairwoman of Nuneham Courtenay Parish Council, said it would have to raise £5,000 to go ahead.
'Backward step'
Council leaders want to save £600,000 from their road safety budget - money which would have been given to the Thames Valley Road Safety Partnership.
The partnership operates the county's 72 fixed and 89 mobile camera sites, but after the council backed the cuts it was agreed they would be withdrawn.
However, Ms Benson said there was an option for parish councils to take over the running of speed cameras in their areas.
"The camera is seen as our only deterrent for people speeding though the small village," she added.
"If as a parish council we can afford that and it's not unreasonable for us to be able to do we would certainly be very serious about looking into this."
The decision to axe the entire set of speed cameras has angered road safety groups which claims lives will be put at risk.
Ellen Booth, a campaigns officer for road safety charity Brake, said: "To get rid of them would be a backward step and we would really be risking people's lives."