Report due into baby heart deaths in Oxford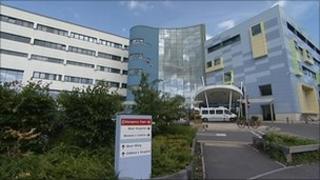 An independent review into the deaths of four babies who underwent heart surgery at the John Radcliffe Hospital in Oxford is due to be released later.
Surgery was suspended in February after the four children died within weeks of each other after being operated on by consultant Caner Salih.
The review panel, commissioned by the South Central Strategic Health Authority (SHA), has been examining all aspects of patient care at the unit.
The report is due for release at noon.
The department carried out around 100 operations a year and was one of the smallest units in the country.
Prof Stephen Westaby and Mr Salih were the two paediatric cardiac surgeons at the time of the suspension.
Mr Salih left shortly afterwards having been appointed as a consultant at Guy's and St Thomas' NHS Trust in London.
Staff supervision
The SHA said the panel had considered the cases of all paediatric deaths between January 2009 and February 2010.
A detailed analysis of why the babies died, as well as a review of the decisions, care and treatment in each individual case will also be looked at.
The panel has also taken into account the supervision of senior staff, their training and experience, as well as the overall running of the paediatric cardiac unit.
It has examined the systems in place within the John Radcliffe NHS Trust and whether "appropriate, proportionate and timely actions were taken by the right members of staff whenever concerns were raised".
The panel, chaired by Dr Bill Kirkup, previously Associate Chief Medical Officer for England, is expected to make a number of recommendations for changes at the unit including better investment, support and training.
A separate national review is currently under way looking at the long term future of paediatric cardiac surgical services across the country.
It is reviewing 11 units and is expected to recommend having fewer, larger centres in the future.