London Oxford Airport sets out £2.2m expansion plan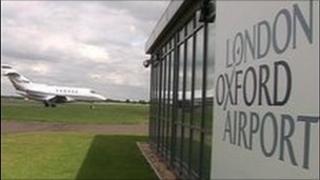 London Oxford Airport has outlined plans to help it cater better for major events like the London Olympics and the Silverstone Grand Prix.
The £2.2m project includes creating 17,800 sq m (4.4 acres) of high-strength apron (parking area for planes) and a new 4,440 sq m hanger.
The development would cover an area of land equivalent to the size of over four football pitches.
The airport could then accommodate 40 medium to large executive jets.
'Better value'
Business development director James Dillon-Godfray said: "This represents a massive advance forward in capacity and infrastructure development with effectively a doubling of parking capacity at the airport for aircraft weighing up to 50 tonnes.
"On a busy day we can sometimes be stretched for space, but now Oxford will be able to accommodate far more aircraft, either visiting or as based residents, at rates considerably better value than some of our London region peers."
The airport changed its name to London Oxford Airport in August last year in the hope the rebranding would raise its international profile.
The airport in Kidlington, Oxfordshire, is about 60 miles away from the capital.