Call for Ardley incinerator deal to be reviewed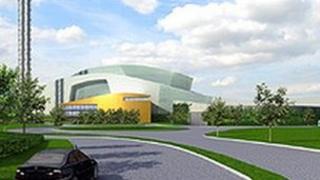 Calls have been made for Oxfordshire County Council to review a decision to sign a multimillion-pound contract for an incinerator at Ardley, near Bicester.
Last week the council's cabinet agreed to sign a 25-year deal with waste firm Viridor - even though the plant does not yet have planning permission.
It said the costs of the contract could rise if it was not signed now.
A cross-party group of 12 councillors wants the decision reviewed.
The members say the contract is not in the best interests of the people of Oxfordshire.
Second application
Larry Sanders, leader of the Green Party on Oxfordshire County Council, said: "In my view the incinerator is a 20th Century idea - technology has already moved on.
"They should think again, it will cost them money and that is sad. But if they get out now it will be cheaper in the long run and will avoid a lot of damage."
An application by Viridor to build the plant was thrown out last October on grounds it would harm the rural landscape.
Oxfordshire County Council says the incinerator provides the best value for money option to dispose of the county's non-recyclable waste in future.
The council's growth and infrastructure scrutiny committee will analyse the decision made by the cabinet on 9 August.
The committee will decide whether or not to refer the item back to cabinet for review.
Meanwhile, Viridor has submitted a second planning application for the scheme, which is due to be heard in September.