Campsfield immigration centre inmates refusing meals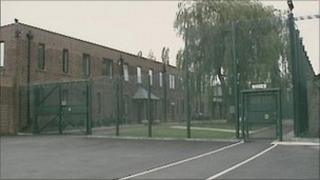 More than 100 detainees at Campsfield House immigration removal centre in Oxfordshire have been refusing meals.
A statement claiming to be from some of the detainees said the protest had "erupted" due to the poor treatment of people detained for long periods.
It said 147 inmates were refusing meals "indefinitely for our voices to be heard".
The Home Office said 108 inmates had refused meals on Monday evening but had access to food from vending machines.
Jonathan Sedgwick, deputy chief executive of the UK Border Agency (UKBA), said there was also an on-site shop.
"Staff are monitoring the situation closely and listening to the detainees concerns," he said.
"All detainees have access to legal representation and 24-hour medical care."
In March, Dame Anne Owers, the then HM Chief Inspector of Prisons (HMCIP), said some detainees at Campsfield House, near Kidlington, were being detained for "excessive periods".
The statement from the detainees, sent to the media on Monday evening, said some people had been detained for more than three years at immigration removal centres across the country with "no prospect of removal or any evidence of future release".
"There is no justification whatsoever for detaining us for such periods of time," it said.
"Our lives incidentally have been stalled without any hope of living a life, having a family or any future.
'Mental stress'
"More often than not, we are being detained even when our family (wife and children) are resident in the United Kingdom, depriving us of having a life with our family. We the detainees are also humans."
It added that some people were suffering "mental stress" and made allegations that some detainees had been subjected to physical harm in the process of being deported, and that many people had not had enough time to make appeals.
The statement also claimed some people were being deported before their appeal cases had concluded.
Mr Sedgwick said that the length of detention at removal centres may be unavoidably long if detainees put in last-minute legal challenges against deportation.
Every decision was made on a case by case basis, he said, and these were reviewed regularly by a senior manager. Detainees also had the option of applying to an immigration judge for bail.
He rejected all allegations that failed asylum seekers removed from the UK were mistreated by staff.
He said only minimal force was used to remove those who refuse to go voluntarily, or are a danger to themselves or to others.
Dame Anne Owers said in her report in March that while Campsfield was making progress on the length of some detentions, she had concern that average lengths of stay appeared to be increasing and a lack of data obscured the scale of the problem.
Inspectors found that detainees were treated well on arrival and relationships between detainees and staff were mutually respectful.
But she said inspectors also noted with concern that some detainees were in effect detained indefinitely because there was little prospect of removal.