Baronet's son, 16, shot himself during call to police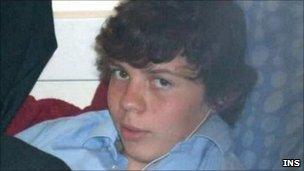 The teenage son of an Oxfordshire baronet is thought to have shot himself while on the phone to the police.
Officers were called to woods near Leafield in the early hours of Friday after fears were raised for Alexander Codrington, 16, from the Witney area.
They contacted the teenager, who was believed to have a firearm, and spoke to him on his mobile phone.
A shot was then heard and the boy, son of baronet Sir Christopher Codrington, was later pronounced dead at the scene.
The teenager lived with his family in the village of Fordwells, near Witney.
In a statement his family said: "He will be deeply missed by all who knew him.
"His humour, his loyalty, his love of the outdoors will long be remembered by the family and friends with whom he spent many happy days.
"We will all carry many happy memories of this wonderful, beautiful boy."
The teenager had just left Stowe School, which said in a statement: "As his former school tries to absorb this tragic news, our thoughts and prayers are with his parents at this dreadful time"
The Independent Police Complaints Commission (IPCC) said it would manage an investigation to discover whether anything could have been done to prevent the death.
A post-mortem examination found the boy had died from injuries caused by a firearm.
Thames Valley Police has confirmed officers did not discharge any firearms.
The police helicopter and armed response officers were deployed to a wooded area near Leafield at 0320 BST on Friday.
Other officers went to the house of one of Alexander's friends and made contact with the teenager via his friend's mobile phone.
An officer stayed on the phone to him for around an hour, the IPCC said.
While on the phone, the officer heard a shot and colleagues then found the teenager's body.
Related Internet Links
The BBC is not responsible for the content of external sites.