Oxford Muslim community raises Pakistan flood cash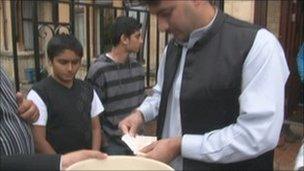 About £5,000 has been raised by members of the Muslim community in Oxford to help people affected by the flooding in Pakistan.
Collections were held during Friday prayers at the Stanley Road and Bangladeshi mosques.
Further fundraising is due to take place in the coming weeks.
At least 1,600 people have died and millions of others are homeless following the region's worst flooding in 80 years.
The brother of Oxford city councillor Sajjad Malik is living in one of the worst hit areas.
Mr Malik said: "It's actually quite worrying, but thanks to technology I do actually speak to them two or three times a day.
"But you always worry because you don't know what the situation is, what time the waters are going to go up and down.
"So it is a constant worry until the rain stops."
Riaz Ahmed, of the Stanley Road mosque, said the Oxford community was "very generous".
"Repeatedly, they have put their hands in their pockets and have never disappointed us."
Related Internet Links
The BBC is not responsible for the content of external sites.