Global award for Oxfordshire wine makers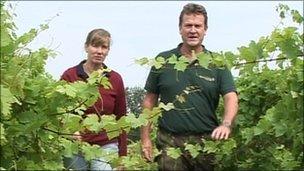 A couple who said they acquired an Oxfordshire vineyard "by accident" have been recognised in an international wine competition.
Bob and Carol Nielsen took on Brightwell Vineyard, near Shillingford, as part of the deal when they bought a property 10 years ago.
In 2009, they grew 30 tonnes of red and white grapes, which was enough to make 30,000 bottles of wine.
They recently won a bronze medal in the Decanter World Wine Awards.
Mrs Nielsen said the award showed English wines were of at least comparable quality to many of those produced in other countries.
She added: "English wine has come on amazingly in the 10 years since we bought this vineyard.
"We have proved over the years we can grow the grapes. Now the technology and the knowledge has come in, into making the wine."
Related Internet Links
The BBC is not responsible for the content of external sites.