Revamp of £186,000 for RAF Brize Norton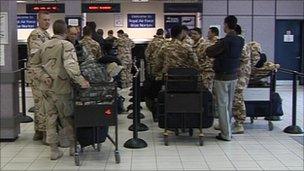 Internet terminals, showers and other facilities worth £186,000 have been installed for troops arriving and leaving from RAF Brize Norton.
Officials estimate 15,000 service personnel pass through the Oxfordshire air passenger terminal every month.
New showers have also been fitted for those returning to the UK, as well as video games.
Group Commander Dom Stamp, said the aim was to make travelling as "pleasant as possible" during a time of stress.
He added: "We are doing everything we can to help them at every stage - just to make their life more pleasant on the way out or on their way back."
Last year, RAF Brize Norton ferried more than 267,000 passengers to locations as such as Afghanistan, the USA, the Middle East, Africa and the Falkland Islands.
Related Internet Links
The BBC is not responsible for the content of external sites.