Deadline looms for Bodleian Library's book sculpture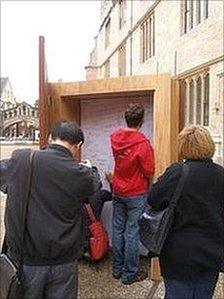 Visitors to the Bodleian Library have only a few days left to write their thoughts inside a large wooden book on display outside the historic building.
The 2.2m (7ft) sculpture, named Imagine, was created by Oxford artist Diana Bell.
The public art installation was opened on Friday by Richard Ovenden, the Bodleian's associate director and keeper of special collections.
It will remain on display in the Clarendon Quadrangle until Tuesday.
Ms Bell said: "The size of the book is symbolic of the immense accumulation of human knowledge.
"The title is important because as far as we know humans are the only creatures capable of imagination and it is through our imagination that we can create new solutions to our future survival.
"On a personal level, as we step into our imagination we enter another world.
"Therefore the act of stepping into the book becomes part of the meaning."
Related Internet Links
The BBC is not responsible for the content of external sites.