Oxford twins scoop 20 A*s between them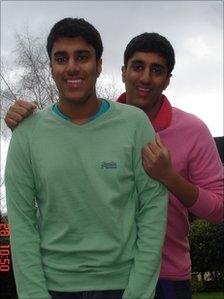 Sixteen-year-old twins Krishan and Jai-hin Patel from Oxford have gained 20 A* GCSEs between them.
The pair from Old Marston both attend the independent boys' school Magdalen College School.
Krishan and Jai said they now planned to stay on at the school to study five A-Levels each, including maths and sciences.
Krishan said the results were "amazing" for both of the brothers and said they had worked "really hard".
The boys' school has its own new record with the number of A* grades at 76.49%. Nearly a quarter of the 104 boys in the year group achieved 10 or more A*s.
Krishan studied English, English literature, maths, biology, chemistry, physics, French, history, Latin and Spanish.
His brother took the same exams except he took geography instead of Spanish.
Krishan said: "I was so happy, I wasn't expecting the full 10 so it was amazing for both of us.
"We worked really hard so it was good that it paid off in a clean sweep."
Jai is currently in Jersey playing cricket for Oxfordshire County.
After A-Levels in maths, further maths, chemistry, French and Spanish, Krishan said he hoped to study law at Oxford or Cambridge.
His brother Jai said he planned to study sciences and said he might follow his father into medicine.
The school was the Sunday Times Independent School of the Year in 2004-5 and 2008-9.
The school's Master Dr Tim Hands said: "All our boys are to be congratulated.
"These are outstanding results and reflect a year of hard work and tremendous achievements both in and out of the classroom.
"Our pupils are inspired to aim high at every level of their school life by a dedicated and tireless teaching body."
Related Internet Links
The BBC is not responsible for the content of external sites.