Children could face litter fines in Oxford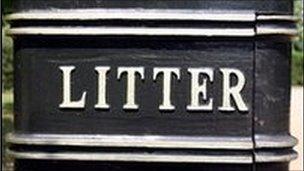 Children as young as 10 could be fined for dropping litter in Oxford.
The city council is proposing to extend £80 fixed penalty notices to young people aged 10 to 17 as part of its "zero-tolerence approach" to littering.
At the moment the council can only give a warning to under-18s and repeat offenders are not identified.
Enforcement officers would work with police and the Youth Offending Service to deal with young offenders. A decision is expected on 1 September.
In November 2009, Oxford City Council said it was adopting a zero-tolerance approach to litter enforcement with the launch of Cleaner Greener Oxford in the city centre.
So far the council has issued 449 fines totalling £26,485 and has successfully prosecuted 11 people who failed to pay the fines.
But the council is currently powerless to deal with under-18s and has had to cancel several fixed penalty notices which were wrongly issued to children under the age of 18.
If the proposal goes ahead, it would mean a young person would first be issued with a warning and their details passed to Thames Valley Police.
They would be warned that if they were caught dropping litter again, they could face a fine of £80.