Oxfordshire residents urged to look at flood risk maps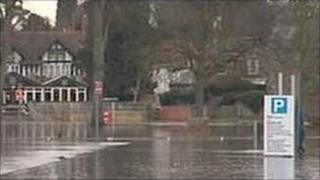 Householders in Oxfordshire are being urged to consult updated flood maps showing the risks posed to properties in 21 communities.
The Environment Agency maps focus on Bicester, Cowley Marsh and Florence Park in Oxford
It also covers a stretch of the River Thames between Sandford and Whitchurch.
In Bicester, about 248 properties have been reassessed as being at higher risk, along with 500 at Cowley Marsh and Florence Park, the agency said.
The agency's Area Flood Risk manager Barry Russell said: "We would urge all residents to check whether your property now lies within our flood map and, if so to sign up to the Environment Agency's free flood warning service where it is available.
"While we can't control the likelihood or frequency of extreme weather events, we can help people to be better prepared for any future event by reducing risk and building flood resilience, both individually and as a community."