Oxford police concerned over car thieves aged seven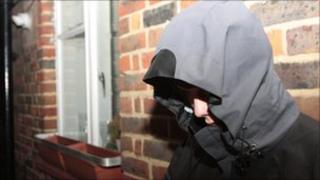 Children as young as seven are stealing and driving cars on the streets of Oxford, the city's priority crime team has revealed.
Det Insp Paul Miller said a hardcore of about 30 criminals were responsible for more than 90% of vehicle thefts.
And one of the cases currently going through the criminal justice system involves two boys aged seven and 11.
"It's particularly scary, because the younger the child the less regard they have for safety," Det Insp Miller said.
He added: "They start off as passengers and say 'can I have a go?'.
"If you take a Nissan Micra, they put the seat forward and put a cushion on that. Driving it like that they can just about see over the steering wheel."
It is a "crime of excitement," he said, with thieves in their late teenage years teaching younger friends how to hotwire a car and drive.
Mopeds and older cars without immobilisers are most at risk.
Vehicle thefts in Oxfordshire dropped by 32% in the 12 months to March this year, but have shown early signs of increasing again.