Eco-friendly burial garden opens in Bicester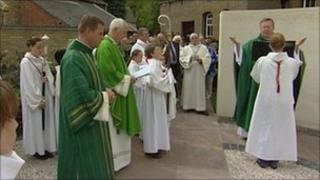 An environmentally-friendly memorial garden has opened at a Bicester church.
Ashes left after cremations will be placed in degradable caskets and buried at the Church of the Immaculate Conception at The Causeway.
Rev Paul Martin said: "We decided we wanted to keep the appearance of a garden. We didn't want it to look like a cemetery."
The garden is named after Father Thomas Foynes, who served in the town between 1946 and 1964.