Officer 'tea poisoning' inquiry at Bullingdon Prison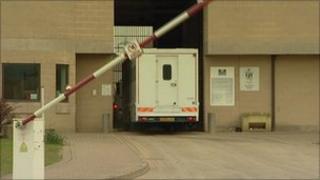 An inquiry is under way to establish how two female prison officers became ill amid fears their tea may have been poisoned at an Oxfordshire jail.
The Prison Officers' Association (POA) says the victims became seriously ill and collapsed at all-male Bullingdon Prison, in Bicester, on Monday.
Both women are expected to make full recoveries and have since been discharged from hospital.
Further tests are planned to establish the cause of their illness.
The prison has more than 1,000 inmates and the officers were working on the "enhanced unit" of the jail, where the inmates have extra privileges, when they were taken ill, the POA union said.
'Extremely ill'
Glyn Travis, of the POA, said: "They were taken to hospital by ambulance. Police were called because it was suspected that their two drinks were poisoned.
"Both became extremely ill and we have been very fortunate that neither of them have had a severe reaction. There could easily have been a fatality."
A Ministry of Justice spokesman said: "Two prison officers from HMP Bullingdon were taken to hospital on September 13 2010 after becoming ill.
"Both have now been discharged from hospital pending tests to discover the cause of their illness."