Longest serving scout to retire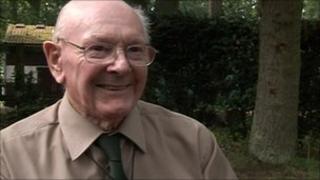 Britain's longest serving living scout is hanging up his woggle at the age of 95.
Reg Hayes, of Normandy Crescent, Cowley, Oxford, has served in the 2nd Oxford SS Mary and St John Scout Group for 87 years.
Mr Hayes, who is a bachelor and an only child, was first taken along to join the wolf scouts by his grandmother in 1923.
He said he was only retiring because he has been suffering from back problems.
Young at heart
He said: "All the camping appealed to me, all the outdoor life - I'm an outdoor person really.
"Then eventually I became a leader and started organising camps myself."
Mr Hayes said being around young people had kept him feeling young at heart.
He said he had fond memories of all the summer camps he had organised and in particular of meeting the founder of the scouting movement, Lord Baden Powell, at Oxford town hall in 1923.
"That was a wonderful thing for me in those days," he said.
"I suppose at the time I didn't think too much of it but afterwards I thought I was very lucky to meet the founder."
During the Second World War, Mr Hayes was part of the Royal Army Medical Corps based in Boulogne, France, until his was evacuated in 1940 when the Germans invaded.
He returned to civilian life as a theatre technician at the Nuffield Orthopaedic Hospital in Oxford, and spent the rest of his working life at the Cowley car factory until he retired at 65.
Mr Hayes has received many awards during his scouting career, but he is most proud of the Chief Scout Silver Wolf award which he was given for his outstanding service.
'Exceptional contribution'
A spokesperson for the Scout Association said: "We value the contribution which every adult makes to scouting.
"The contribution that Reg has made is exceptional and every young person he's worked with will be grateful for his enthusiasm, time and commitment."
A special farewell service will be held at SS Mary & John Church, on the Cowley Road, at 1030 BST on Sunday.