Bed-blocking in Oxfordshire hits three-year peak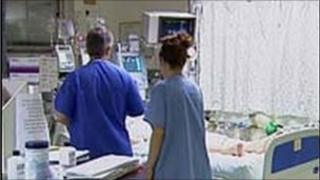 The number of people staying in Oxfordshire's hospitals longer than they need to has nearly doubled in recent months, it has been claimed.
The figure has reached a three-year high of 135 patients who have been delayed in leaving care facilities.
Some have spent more than four months longer than they need to in community hospitals.
NHS Oxfordshire said it was due to inadequate care provision at home and a shortage of care home places.
Earlier in the year there were 72 patients waiting to go home.
The health authority said the peak in July was down to a 40% reduction in the hours of home care available.
Patients at the John Radcliffe hospital in Oxford have been delayed from anywhere between one and 70 days.
Patients in community hospitals can be delayed anywhere between 4 and 138 days, NHS Oxfordshire revealed.
'Extremely frustrating'
Marilyn King's mother died in hospital last week while she was waiting to be discharged.
"It was extremely frustrating because we just wanted her out," she said.
"But it's going to get worse because people are getting older, living longer and they haven't got families to look after them."
John Jackson, head of social and community care at Oxfordshire County Council, said: "What we're trying to do is to focus on the people whose needs are greatest, what we also need to do is to look at whether we can get people home with a different type of support that's available.
"There are a number of services that are available that we don't believe we're making enough use of."
Alan Webb, a director of NHS Oxfordshire, said: "The requirement and the demand for these types of services is significantly outstripping the availability.
"What we're doing is continuing to work with our colleagues in social care but also ensuring that we do focus on the people who have the greatest needs and ensuring that we can move them on quickly."