Cat critical after shotgun attack in Oxfordshire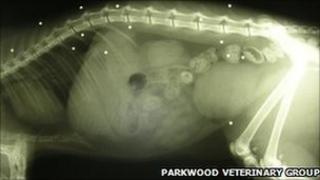 A gunman is being hunted after a cat was left with life-threatening injuries when it was shot during a "vicious" attack in Oxfordshire.
Vets have only been able to remove six of the 21 shotgun pellets embedded inside the cat, named Marley, after he was fired at.
The attack happened in Cassingon, near Witney, on Tuesday and Marley could lose a leg if he survives.
RSPCA Inspector Annabelle Black called the shooting a "despicable crime".
Police have been informed and are appealing for witnesses.
'Angry and upset'
Marley's owner, Kathryn Thomson, of Yarnton Road, said her pet cried out in pain when she picked him up.
"This is just a vicious and unspeakable thing that someone has done," she said.
"The vet who examined Marley said he was shot at close range and I am so angry and upset that someone could purposely shoot an animal.
"Marley is currently being given antibiotics and morphine, but we could still lose him.
"If he does by some miracle manage to survive he could lose his leg as a result."
RSPCA Inspector Annabelle Black, said: "We are all desperately hoping that Marley pulls through."